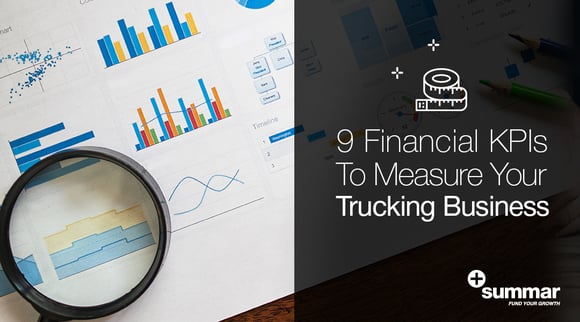 When you are trying to grow your trucking business, you need more than an optimized cash flow. You will want to have positive financial KPIs (key performance indicators) that show you are on track for reaching specific milestones. These provide yourself, your team, your clients, and your stakeholders' confidence that the business is on the right track.
Now you can listen to our blog posts!
Along with building confidence in your trucking business, you can also identify the areas that need additional attention or improvement. You will need all the help possible to keep your business up to date. That is why you must count on factoring services that allow you to keep healthy financial indicators.
What Are KPIs?
Before you calculate the below nine KPIs, let's take a moment to explain them. Every trucking business needs key performance indicators that allow the owners and operators to understand their current position. The figures for each KPI explain whether the company is on track to achieve certain goals/milestones.
KPIs allow the individual reviewing the numbers to have a clear picture of where the business is at, where it is performing best, and what needs to be improved. They are crucial for every business because you have the cold, hard facts in front of you about your performance. These numbers can be used to explain why new investments should be made or whether the fleet needs to be expanded, for example.
1. Freight Cost Per Unit
Freight spend is important for every trucking company. To calculate the cost per unit, divide the total costs for shipping by the number of units that are being shipped. You can then determine if this number helps or hurts your profits.
2. Outbound Freight Cost Against Sales Generates
There are always costs when doing business. However, they shouldn't exceed a certain margin of the sales generated. To determine this KPI, divide your outbound costs by your net sales for the month.
3. Inbound Freight Costs Against Necessary Purchases
Whether you need a new vehicle for the fleet, additional tires, or any other necessary purchase, you want to make sure your purchases do not exceed your profits. Similar to the above KPI, divide the inbound costs by the total cost of your monthly purchases.
Learn more: Build An Easy Strategic Business Plan For Your Trucking Company
4. Transportation Time
Regarding transportation time, this KPI showcases your ability to meet or exceed customer expectations. To obtain the KPI, divide the quoted timeline by the actual delivery time. The goal of this metric is one. For example, if you quoted a customer five business days and delivered in five business days, you have a KPI of one. If you deliver in four business days, you have a KPI of 1.25, which shows you can exceed customer expectations. On the other hand, delivering one business day late creates a KPI of 0.8, which indicates your business struggles to meet deadlines.
5. Freight Claims VS Freight Costs
In an ideal trucking business that is trying to grow, no freight claims will be filed. However, unexpected problems can arise and claims may need to be filed. The goal is to aim for lower numbers because these showcase the ability of your business to deliver cargo safely. To achieve the KPI, divide the loss from freight claims by your overall freight costs.
6. Billing Accuracy For Freight Sales
Billing accuracy shows that your trucking business does not overcharge or undercharge customers. This helps keep you from ruining relationships or losing on profits. Divide accurate freight bills by the freight bills in the given period. With this metric, you want to achieve a KPI of one every time.
7. Accessorials VS Total Costs
Accessorials are charges most in the trucking business want to avoid. These fees do not appear until the shipment is completed and invoiced. However, all accessories should be tracked to ensure freight managers can understand the entire situation. Fees should be kept as low as possible. To understand the KPI, simply subtract the accessorial charges from the total freight costs.
8. Trucking Capacity Utilized
Ideally, you want to have as much of your vehicle's capacity used each shipment. If you can combine customer shipments without affecting delivery dates, you improve your profits and help grow your trucking business. You can determine this KPI by dividing the shipment weight by the total capacity available. The closer you are to one, the better.
9. Mode Selection VS Optimal Use
When you understand the optical mode of shipment for specific cargo, you can utilize the lowest cost shipping method for your trucking business. This helps improve profits without affecting delivery timelines. You will need to use benchmarks to understand what products were shipped by optimal mode. At the end of the month or period, divide the number of optimal mode shipments by total shipments.
Grow Your Trucking Business
As you further understand the KPIs that explain the performance of your trucking business, you can determine if your company is still on track for growth. Many of these indicators focus on measuring that your finances let you keep your business healthy. Sometimes you may need fast cash flow so that your KPIs are always positive. Factoring will allow you to access faster payments by selling your invoices issued with payment terms to your clients. Faster payments, better responsiveness.
To learn more about how Summar can help you fund your growth, please contact us today!