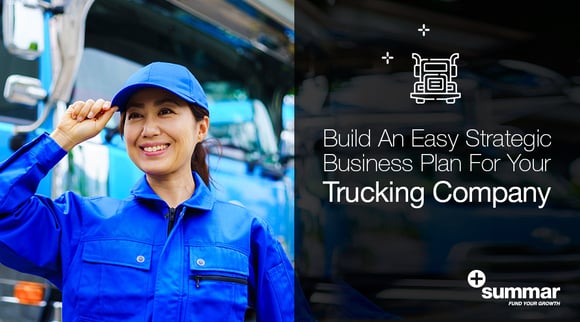 Whether your trucking company is just starting or you are looking to expand your operations, a business plan is a vital road map you need to ensure your success. Below, we've included the key sections you need to include and tips for how to write them. With your completed business plan in hand, you will have your goals on paper and an exact outline of how you will achieve them, and how factoring can help you to make it happen!
Now you can listen to our blog posts!
Why is it important to create a business plan? The best way to meet your goals is to establish what they are. To get there, in business matters, you must clarify some characteristics such as who you are, what you do, and what is your value offer and your motivation. Discover five items that you must consider making your business plan a clear roadmap to success.
Executive Summary
This is the first section in the plan but might be the last section you write. Your executive summary should be no more than one page long. This introduces your trucking company and all of your plans. Make sure you include your company mission, services, financial information, and your value offer.
It is incredibly important to take your time writing this summary. You can never guarantee that someone (like a financial institution or potential business partner) will take the time to read your entire business plan. Your executive summary may be the only part they read. You need to make sure you present your company in the best light and fully explain everything that one would learn if they were to read this business plan from cover to cover.
Learn more: How to Achieve Success With Your Trucking Business?



Company Description



This section should be one of the easiest to fill out. It contains the history and background of your trucking company. Include key facts such as:
• Owner(s)
• Founding Year
• Headquarters
• Region of Operation
• Number of Employees
• Core Values
You can outline your organizational structure in this section, as well. This section is designed to promote all of your competitive advantages. If you have recently expanded your fleet, be sure to include that! Describe what is important to you. This data shapes your culture, your vision, and the big picture of your aspirations. Recording the history of your company is crucial, so you will have more clarity about what you have done to get where you are right now.



Services



This should be another simple section to complete. Outline your services and how these can meet and exceed your customers' needs. For example, a trucking company from the southeast would explain it uses flatbeds for long hauls because it needs to move timber from Georgia to Arkansas. You may also include work conditions, pricing, materials hauled, and industries you serve.



Market Analysis



This section will showcase your understanding of your business. When you prove your understanding of trends and customer needs, the goals and strategies you explain in future sections of the business plan have more validity. Cover the following topics:
• Industry Outlook
• Company's Distinguishing Characteristics
• Target Markets
• Market Share
• Pricing and Gross Margin Targets
• Competitive Analysis
• Regulatory Restrictions
For more information on where to find data to fill out these sections, review the U.S. Small Business Administration's guide.
Sales and Marketing



This section will explain how you will gain your market share. Break this out into two sections: marketing strategy and sales strategy.
Your marketing strategy describes how you will attract leads and build relationships. Also, include if you plan to engage in acquisitions or major purchases.
Your sales strategy explains how you identify prospects and call on them. Explain your current closing sales rates and describe if you plan on closing new deals. This information will be vital in the next section of your trucking company business plan.
Financial Projections



Your financial projections section is arguably one of your most important sections. This will explain how your budget can (and will) meet your company's goals. You will explain your current balance sheet and explain how your company will perform over the next three to five years. Business plans need to be updated to reflect new changes in the industry, market, and company.
When you are writing out your budget, make sure you consider your current and future debts, current and future income, and operational costs. If you will be acquiring a new fleet, make sure that is included in the budget. You can break it out by year 1, year 2, year 3, and so forth. You should have a complete understanding of your operating costs and be able to describe them in your budget. Overhead, employees, benefits, and other important details should be described line by line.
In addition to your budget, explain how you will optimize cash flow. By cutting unnecessary expenses, refinancing debt, upgrading your fleet to improve their efficiency, and setting up payment terms that make your customers happy, you can improve the cash flow for your trucking business.

An easy way to optimize your cash flow is to use a Summar Freight Factoring Program. We advance the disbursement of your invoices with extended payment terms allowing a constant growth of your operations. Learn more about how factoring works and what benefits it has to improve your financial projections.

New businesses and small businesses that do not have a proven track record yet often have issues acquiring traditional business loans. Fast financing options are available using your invoices. If you plan on using this method for acquiring capital, this needs to be included in your financial projects section.

At Summar, we believe that trucking businesses like yours should be able to fund your growth without any hassle. Our freight factoring services can help you have stronger financial projections and allow your trucking business to scale. Contact us today to learn more.