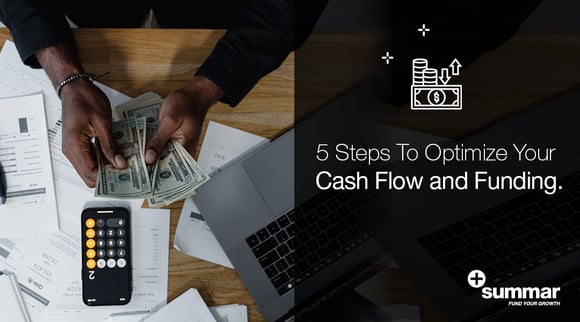 Your cash flow is vital for the health and success of your trucking business, that's a fact. If you don't have any positive cash flow, you will always be operating from project to project rather than quarter to quarter. While it can feel impossible to regain a positive cash flow if you have recently faltered, it is not impossible to get back. With a few simple steps, you can be on your way to improving and maintaining a positive cash flow. One of them is factoring in your invoices to improve your payment terms.
Now you can listen to our blog posts!
1. Keep Your Team Accountable
Your employees, managers, and drivers need to be held accountable for the decisions they make that affect costs and expenses. For example, if your drivers unnecessarily idle their vehicles, this increases fuel consumption and engine wear that you will need to cover. Another example is as simple as your office team leaving on lights or fans when they aren't necessary. Every action ultimately costs you money, so be sure to address any concerns with your team and keep them accountable for making the best decisions possible.
2. Control and Provision Your Costs
While it's important to understand your annual and monthly costs, it is also important to understand what each day and project is costing you as well. This allows you to have better control of your costs and make the most efficient decisions for your business. Simple changes like utilizing fuel discount cards that provide advantages for your company can help you save money in the long run. It is also a wise choice to conduct a profit and loss analysis often to understand how your daily and monthly decisions are affecting your business.



3. Maintain Your Fleet



Fleet maintenance is expensive, there is no doubt about that. However, keeping your fleet well maintained and connected with the latest technology can help you have improved profits in the future. Rather than fixing repeat problems or guessing at how your fleet is running, your investments will ensure you do not continue to lose money.
New technologies like idle management can help your managers understand driving patterns and detect unusual idling. Additionally, by maintaining your fleet properly, using the latest technology, and ensuring proper driving practices from the beginning, you can have peace of mind that your fleet will actually last for years to come.



4. Expand Your Business
If your team is accountable, your costs are properly managed, and you have a well-maintained fleet, expanding your business is the next logical step in creating positive cash flow. If you do not have the profits or revenue to continue to meet the requirements of your fleet and clients, expanding is likely your only answer. The more clients you have, the more revenue you can make. With more revenue, you can improve your cash flow over time. Once you have your cash flow at a happy level, you can finally take a deep breath and focus on maintaining it.
Now, it is possible you may not have the funding to expand. This is especially true if you are trying to work your way up to positive cash flow. Nearly every company needs funding to expand its business. However, newer trucking companies may not have the capital or credit to prove to lenders they can pay back the loan. If this is your situation, a Summar Freight Factoring Program is a viable solution.
Learn more: How to Achieve Success With Your Trucking Business?



5. Use Factoring To Receive Faster Payments
While you would love for your clients to pay their invoices the day before you send your fleet out to start the project, that is a reality that is unlikely to occur. A 30, 60, or 90-day invoice is far more common. However, you can use these invoices to your advantage. Since you already have accounts receivable, factoring can help you acquire your funds in a shorter period; and, at the same time, to be able to offer better payment terms for your clients.

Rather than waiting one, two, or even three months to be paid in full for work you have already completed, factoring can help you get paid and solve your uneven cash flow problems. How does factoring work? It's pretty easy. A factor purchases your invoices and disburses your payment in the shortest time possible, while your broker disburses your factor the value of your invoice in the payment term agreed with you.

With factoring, you can receive your payment early and use the funding however you need. You can expand your business, provide incentives to employees for improved accountability, investment in new truck technologies, or whatever else you need to do for your trucking company.

At Summar, we believe that trucking businesses like yours should be able to fund your growth in a fast, safe, and easy way. Our freight factoring services can help you have better financial projections and allow your trucking business to scale. Contact us today to learn more.