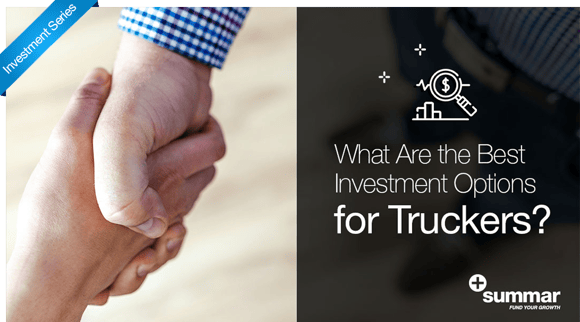 Now that the COVID pandemic crisis seems to be calming down and small businesses are opening back up, it is a good time to take a hard look at your operations. For many industries, like the trucking industry, the landscape looks quite different than it did just a year ago and taking some time to reevaluate your goals will allow you to assess where you are and where you want to go. Some of your competitors may no longer be relevant, while new competitors are emerging. Now is the time to decide the best areas to invest so you can ensure optimal performance and maximum growth.
Operations: Focus on what makes your business grow
Expanding your operations is often a good investment when done wisely. There are so many areas that you can consider, such as opening additional offices, increasing your fleet, expanding your carrier capabilities, staff training and perks, and technology.
Begin by thoroughly analyzing your company from the ground up. Identify your goals, both long-term and short-term, as well as your company's financial health. In other words, does your business's financial status line up with its goals? If not, that may be where you focus, for now, on making small investments to encourage growth. You can build up to the broader goals and tackle them as you can.
Real Estate: Grow your company with smart property investments
Real estate has long been a popular investment venture for many businesses. Whether you are adding on to your existing property, such as increasing your storage or parking area or opening another office in a different location, you'll need real property to make it happen.
You may want to enlist the help of an experienced real estate agent who will help you find properties that best suit your company and your budget. The right agent can be a powerful partner in your investment ventures.
Technology: Investing in technology keeps your operation's current
Truckers must consider the impact of technology to improve efficiency continually. From electronic logging devices (ELDs) to driver communications and dashcams, truckers collect data and monitor their processes and results to reach their productivity goals.
We live in a very technology-focused society, and just about any company will have to get on board with at least some of the latest technological advances if it is going to survive. Software and equipment are all excellent areas for investment. Keeping it all up to date will ensure that your operations run smoothly with few hiccups.
A good option might be using specialized technologies and apps that allow you and your truckers to find optimal routes, special on-the-road services, and data collection on driving behavior. You can use the collected information to improve your training programs and achieve new levels of productivity.
Administrative: What goes on behind the scenes gets an efficiency upgrade
Administrative tasks are often perceived as tedious or a necessary evil. However, your business would not run without them, and it certainly would not show a profit. Improving administrative processes can streamline your back-office and free up valuable talent to perform other vital tasks. While these changes are more subtle, they'll make it possible to invest in other areas. Some administrative improvements include:
These are just a few ways that trucking companies can make administrative adjustments to facilitate growth and expansion.
Marketing & Communications: make sure your potential customers can find you
One of the investments that can offer your business more visibility is marketing and corporate communications. From improving your customers' experience throughout your channels to engaging with new audiences, investing in marketing is always a great idea. Hiring experts to help you establish a marketing and communications strategy taking your current needs into account is an investment that can upgrade your business to a new level.
Fleet: Expand or upgrade for more efficient, effective operations
Trucks are the backbone of any trucking business, and yours is no different. Two areas are great investment opportunities: upgrading your trucks and expanding your fleet. In some cases, you may choose to do both for maximum benefit.
Adding more trucks to your fleet can be a good investment as long as you balance maintenance, repairs, and fuel with the money they bring in. It all has to be carefully documented and managed so that you can stay in the black.
If funds are a problem, you may want to start with upgrading the trucks you have. You can trade in your existing trucks to get new models with fewer miles. Carefully weigh out both options to decide which works best for you because you can get in overhead pretty quickly if you aren't careful. A brand-new fleet may look nice, but if you don't have the money to back it, you could find yourself in a difficult financial situation.
Human Resources: You can't go wrong investing in your people
Investing in your people is always right. Whether you provide them with a health plan or training, it's a good thing to put your money behind your people. Companies that invest in their employees have a much lower turnover than companies that don't. Some suitable investments include:
Driver training

Health or wellness plan

Licensing

Personal development

Team building

Employee incentive program
Get creative! Investing in your employees shows that you appreciate them and that they are a valuable asset to your company. It improves employee morale and increases employee loyalty.
One of the best investments you can make is in yourself. Putting your money back into your company is a smart move. If you have considered expanding your company, now is the time to do it. To achieve this, you must have partners you can trust, who understand your company and have the experience to offer you factoring services that allow you to reach your goals. You can count on the funding you require to invest safely in your business with Summar. Discover our easy, fast, tailor-made factoring programs, created for businesses like yours. Apply now. It's time to make your move!