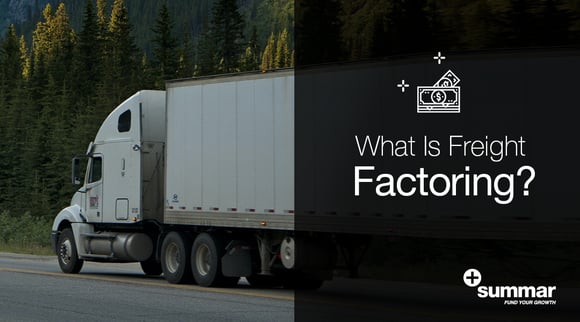 If you are running a trucking company, whether it be one truck or fifty trucks, there is one thing you all have in common: waiting to get paid. Unfortunately, in the freight industry, waiting is just a part of the business. Factoring has emerged as the leading solution for trucking companies to accelerate their payments to improve cash flow throughout the US.
What is Freight Factoring?
Freight factoring is selling your account receivables to a factoring company to get cash immediately, while the factor then waits the 30-60 days established in the payment terms to collect from your broker. The factoring company will take a small percentage of the invoice as a fee. However, factoring is one of the most common ways trucking companies can improve their cash flow while operating, especially new and smaller carriers that had to incur a debt to cover start-up expenses or operating costs.

It not only eliminates the wait and stress that comes from awaiting long payment terms, but with factoring in place, you will have cash available on the same day and ensure you are never low on funds. While keeping your truck moving, you can be ready for unplanned situations, such as unexpected repairs. We know that if the wheels are rolling, money is coming in.
Pros of Freight Factoring
Faster payments of your outstanding accounts to improve your cash flow.
You protect your money from nonpayment risks when choosing non-recourse factoring and credit guarantees.
You can improve your collection time and help your back-office process.
It is perfect for small carriers during growth periods. Better cash flow means more hauled loads.
You enjoy many perks like fuel advances, automated reporting, real-time credit checks, and more tools to boost your business.
Non-Recourse vs. Recourse Factoring
Recourse is one of the most important terms you need to understand to choose the perfect freight factoring program for you.
Recourse factoring means that the factor has the right to collect payment from you if your broker doesn't pay the invoice within a reasonable time after its due date.
Non-recourse factoring is when the factor accepts the risk that a broker won't pay. In this case, under certain conditions that vary from company to company, your business won't be on the hook if your broker doesn't pay the invoice on time. At Summar, we offer non-recourse factoring.
Learn more: How Can Truckers Survive Slow or Challenging Markets?
Why choose Summar's Freight Factoring Programs?
Summar's expertise is trucking! We know your industry, and we understand every challenge you might have. Our programs are based on what our clients want and need to keep their trucks rolling.
We offer

unlimited credit checking, so you don't have to worry about someone who won't pay.
Also, our

non-recourse factoring program

and credit guarantee mean we won't charge you back if a load fails to get paid for circumstances outside your responsibility.
You get a dedicated account executive who will buy your loads promptly and help you with your needs.
You can take advantage of our

fuel advances, significant savings and monthly rebates with our fuel card, and extended hours

on weekdays and Saturdays.
And our

in-house professional collections team

will ensure you never have to chase your money again.
All of this with

transparent terms, no reserve programs, and no hidden fees!
Freight factoring offers you better opportunities
Freight factoring allows you to grow your business because it gives you the cash flow needed to improve your operation:
You'll have

the cash to afford more loads

via factoring and fuel advances.
You'll be able to

negotiate better rates

by offering

payment terms

to your brokers.
Also, the more you move, the more you earn, and having more money available allows you to continue to invest in your company's growth in the long term.
And that's why we are the best in the business: we pay you quickly daily, but we also think about your long-term growth. Discover more about Summar and all we have to offer your business here!