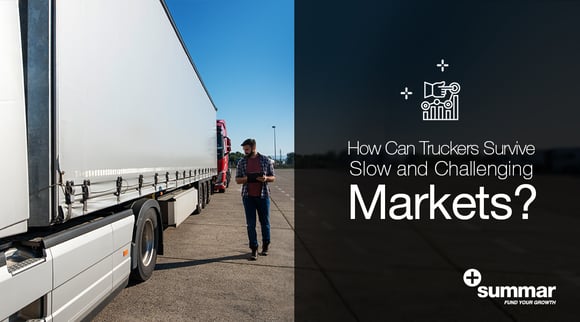 The last few months have been proof of how everything can change in a matter of days. Slow markets and unpredictable trends might be closer than they appear and can affect how you do business. And, in tough times, small businesses will face one more uphill battle.
Now you can listen to our blog posts!
It is a fact that small businesses make up most of the trucking industry almost exclusively (~92%). They tend to have fewer resources available, so they will be more severely affected if something changes the industry. Your survival is more at stake. Here are some tips on how truckers can survive in slow and challenging markets.
Be Aware
In most cases, awareness is not the issue. You've probably been seeing the signs of fluctuations in a challenging market for some time. However, just because you know what's happening doesn't mean you know how it's affecting you and your company. So how to keep on track with the market? These are some ideas to make it easier:
Keep an eye on more than just the news.
Dig into market research related to the trucking industry.
Make sure you understand the critical issues.
Identify the industry cycle.
So, even when confusing, you should track your industry, both as a whole and in real-time, every day.

Review Your Cash Flow to Ensure Liquidity
If you don't know where you stand financially, it won't be easy to understand what you'll need to do to survive. You need to know the current state of your company.
How much money is moving through your company?

Are you profitable?

What do your expenses look like: repairs, upgrades, and maintenance?
Your company will always need repairs, upgrades, and maintenance. Still, you should balance the company's expenses to ensure that you can quickly liquidate a portion of your money as needed for unexpected emergencies. You need to know what your cash flow looks like, so you'll know what decisions you'll need to make in the near future.
A great way to know precisely the state of your cash flow, and at the same time improve it, is factoring. Factoring is a financial solution that allows you to get the money for your delivered loads right away instead of waiting for payment terms. It will enable you to be on time with your business essentials and be ready for contingencies.

Manage Risk
As part of your Business Plan, you may have examined some risks you face as a company. But, even if you conducted a risk assessment back then, do you know the risks affecting your company now? Have you considered the economic and industry data?
What is your level of debt?
Have you considered how high driver turnover or less demand affects your business?
How efficient is your operation?
How will empty miles, wasted time, fuel, and money affect your bottom line?
The answers to these questions will give you clarity about your weaknesses; the key to overcoming them is preparation. Preparation will help you mitigate and avoid long-term effects. Consider preparing in advance for aspects related to travel and logistics, save up to cover large expenses that you already know are coming, identify which expenses you can cut in the bud if you need to reduce, and also include action plans against new threats such as cyber-attacks.
Once again, it would help if you considered factoring to manage operational risks. It allows you to avoid unnecessary debt and protect you against the risk of non-payment by your broker.
Learn more: Build An Easy Strategic Business Plan For Your Trucking Company
Explore Funding Options
Once you've fully explored your risks along with your cash flow, you should have a better idea about what options might be open to you. The next steps are:
Understand your strengths and weaknesses so that you can survive an economic downturn.
Count on funding partners that may help you keep

your cash flow healthy

with

the best customer service.



It is crucial to keep a close eye on your cash flow. Watch the trucking industry. Depending on where you are with your business, you may require different financing options. For the trucking industry, factoring might be a good fit.

How Can Freight Factoring Help?



At Summar, we have been working with truckers for more than 18 years, through thick and thin. That is why we are the Freight Factoring experts you can trust! You can count on Summar to survive slow or challenging markets. Our goal is to give you the financial support you need with fast cash flow advances. We would pay you for your hauled loads right away and guarantee your brokers' credit to help reduce your overall risk and improve your cash flow. We are ready to support your continued growth without you incurring debt!

Our tailor-made factoring programs will help you keep your business on track at any time. We understand that easy, safe, and fast funding is crucial when the market becomes more challenging! Contact us to discover more about how we can fund your growth!