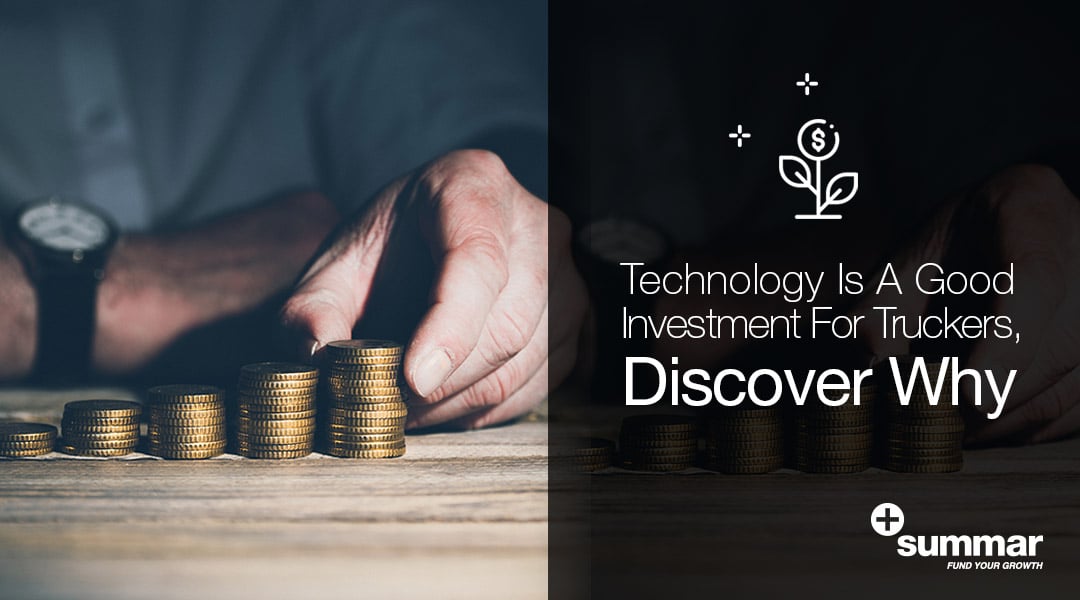 Technology is one of the best investments a trucking company can make for the health of its business, including its fleet and its drivers. With so many hours spent on the road and away from family, it's important to invest in truckers' well-being to offer them the best quality of life while completing essential logistic transportation.
With the right tech, trucking companies can have more efficient processes by improving their work environment. When employees are happy, and trucks run efficiently, your trucking business can grow steadily. But, to invest, you need to have an optimized cash flow!
These are some options to invest in technology most successfully and safely:
It may feel like a TMS is only available for large companies, but that isn't an issue with Summar App. Our Transportation Management System is the industry's best for small to medium-sized trucking businesses. With Summar App, gain total control of your processes and fully understand and control load time, expenses, taxes, and more!

If you choose any of Summar's Freight Factoring Programs, you can subscribe for free to this value-added service!
Learn more about our freight factoring services today - The easiest way to fund your growth because it allows you to access funds immediately, long before the usual 30, 60, or 90 payment terms.
Health Monitoring Systems
In prior years, when truckers experienced an issue on the road, they needed to exit the cab and inspect the vehicle. Sometimes, the issue is easy to find, and other times it may be a hidden problem. If the trucker didn't see any red flags, they would have the vehicle checked out later in the day by a mechanic.
In today's world, trailer health monitoring systems eliminate the need to have a driver exit the cab. These systems integrate sensors with several components on the vehicle (like tires and brakes) that monitor their conditions. In the event an issue arises, the driver will be notified right away. Everything from minor issues to large problems is explained at a moment's notice.
This helps keep drivers out of the safety of their cab while on highways. It also allows trucking companies to understand what is happening to the fleet at all times. By picking up on small issues early on, costly repairs can often be avoided.

Mobile Apps
When your drivers are on the road all day, it helps to invest in technology that can improve their daily life with their own mobile devices. Several apps are available to help your drivers experience a better work environment on the road. CAT Scale Apps allow drivers to plan their route to find a CAT scale. It also allows them to save time at weigh stations since the truck can be weighed and paid for right from their smartphone! CoPilot Truck Navigation is another important app to invest in for your drivers. This voice navigation system automatically calculates the most efficient route for your drivers. It even works offline, which is important when your drivers are not always near a metro area on their deliveries.
There are even free apps, as well! One example is Park My Truck. It allows truck drivers to find out if there is space for them to park.
Other Worthy Technology Investments
Aside from technology that directly benefits the trucking company, some investments directly benefit the driver. The first is camera monitoring systems on fleets. The cameras eliminate most (if not all) blind spots for a trucker. This can significantly decrease their stress while driving on busy highways.
Summar, the Freight Factoring Experts
At Summar, we offer the best freight factoring services possible. We believe that trucking businesses like yours should be able to fund your growth in a fast, safe, and easy way. Our freight factoring services can help you have better financial projections and allow your company to scale. We also believe in supporting your growth in any way we can. This is why we offer our factoring funding clients free access to Summar App, our Transportation Management System (TMS). Contact us today to learn more.