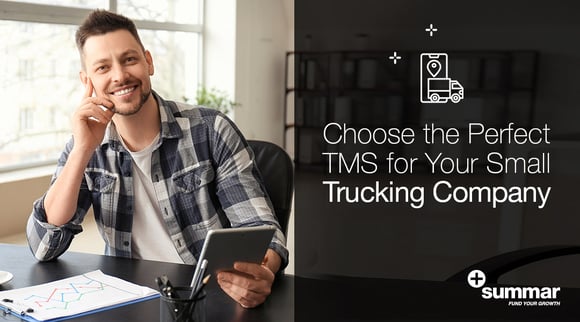 Finding the best fit can be overwhelming in a world full of options, especially regarding technology. Yet not impossible. Discover some

practical insights

you should remember when talking to possible providers to make a simple comparison and choose the

Transport Management System

you need in minutes.

But first, do you know everything a TMS can do for you? A Transport Management System is an integrated solution that allows you to centralize your core processes in a single system, making your operations simple and effective. This way, you can manage categories such as cost recording, communication with your truckers, trip status, load assignments, and tax calculation. With this control, you can make informed decisions based on real-time information—all your productivity at the click of a button.

At Summar, we choose an easy-to-use set of criteria to pick the ideal TMS for you. Let's check it out!
Picking the features your business needs
TMS used to be tools used only by medium and large companies, and many of them may have specific options that your small business does not need. Those come at a price, making you pay for features you do not need and increasing your costs. Warehouse management and a multi-modal transportation feature might not be essential for you. Make sure you won't be paying for options you will not use. That alone will improve your ROI.
A TMS can turn ineffective manual tasks into automated digital processes. If you waste a lot of precious time assigning and following up on loads, trying to get a hold of your drivers, controlling your costs, and calculating taxes, our TMS is the right choice!
In our Transport Management System you will find features made especially to help small carriers, such as:
Quick and easy set-up.
Cost-per-mile calculator.
Easy assignation and real-time tracking of your loads.
Better communication with truck drivers.
Effortless requesting of fuel advances.
Faster transactions with brokers, shippers, and your factoring company.
Consolidation of the data needed for tax calculation.
Seamless control of your costs per journey.
Our vast experience allows us to understand the challenges you are facing. Therefore, we know what features will significantly impact your daily tasks and long-term results.
Licensing prices and billing periods
With so many options on the market, it is easy to find all kinds of prices for your new TMS. From free and basic tools with minimal features to custom-made systems for large companies that require particular robustness. Make sure you know under which circumstances you'll need to upgrade your plan. Is it more users? Perhaps more features otherwise locked? Keep these in mind when selecting a TMS for its price.
You must then decide what type of subscription you want to pay and what billing period makes more sense for you: annual or monthly. Although we recommend that it be a tool for permanent use, there may be periods when you might not require this level of control. In this case, a monthly subscription would be ideal for you. If you decide to invest permanently in a TMS, an annual subscription can represent savings in your fee.
If you are thinking of growing in a scaled way, you must choose a license based on the offered users per company. Some higher prices include new features or more users for the tool. Start with a limited number of users, and choose a subscription that allows you to amplify your scope as you deem necessary.
Learn more: Factoring: A Way of Minimizing Risk from Your Investments
Easy set-up and start-up processes
The set-up stage can be tricky. Remember that it is not just starting to use a new tool; it involves transferring the information you collect through other channels and learning a whole new way of managing your daily activities.
However, some of the responsibility to deal with resistance to change and help your company be open-minded to new working methods relies upon your TMS partner. Ask for details about the set-up process—the faster and more well-organized the onboarding, the quicker the return on investment.
Our Summar App has a quick and easy setup. You need easy-to-use features to control your entire operation and thus improve the management of your business. That's why entering your information and learning how to use our tool is a no-hassle. You can use your new TMS in less than a day and obtain its full potential in your operations.
Specialized services and value offer
Our experience as financial partners of successful truckers taught us that integrating your company into a single system will allow you to oversee your operation and seek opportunities for constant improvement and growth. We always want to make your life easier.
For many years, we have proven that factoring is one of the most practical and profitable solutions for carriers to protect their cash flow, keep rolling, and achieve ​​their goals in record time. We developed an exclusive feature in our TMS that enables you to submit loads to us right from the same platform where you control your entire operation!
You can control your business, including fast advances and funding!
Using a TMS as part of your management strategy is wise for all this and much more.