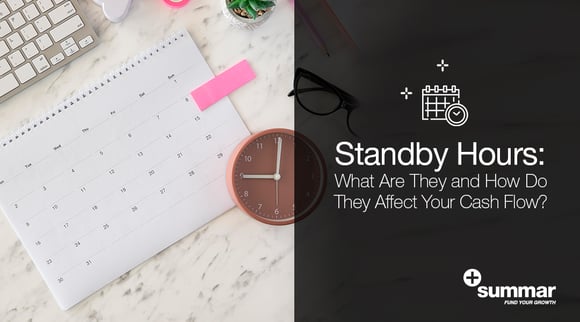 Many things can delay the loading of your truck, causing frustration and affecting the way you charge rates. According to some estimates, truckers' wait time or standby hours can cost upwards of a billion dollars every year for American truckers. Standby hours also force truckers to be on the road longer, with a 6% greater risk of crashes and other accidents on the road due to fatigue after an additional 15 minutes of wait time. Find out in this post what you can do to improve your Trucking Wait Fee and negotiate better rates.
Now you can listen to our blog posts!
What Are Standby Hours?
Standby hours are the period when truckers must wait for their truck to be loaded or unloaded. Although the time may vary in length, it affects their productivity. It delays the hauling of new loads, which means lost revenue for truckers and significantly reduced income for the carrier.

Thus, we want to explain in detail what constitutes a standby hour, how to calculate them, and how to charge your brokers for it!

What Causes Detention Time?
Warehouses and shippers' processes have gotten slower in recent years. Production and inventory challenges reduce shipping capacity, increasing wait times to start trips. Did you know that today a trucker can wait approximately 2 1/2 hours to be loaded or unloaded?

When the time agreed with your brokers for the load is exceeded, the detention time starts to be a problem for you. To be competitive, many carriers avoid making this charge. However, if you do too, the health of your finances might be in danger! And not even for a good reason. In 2018, 71.4% of brokers claimed to have paid the Trucking Wait Fee without hesitation.
What is a Trucking Wait Fee?
Truckers charge a wait fee when they are forced to wait for longer than 1-2 hours for loading or unloading the freight. It is typically set at a prorated hourly charge, extending 3+ hours. The amount may appear on the invoice as a destination charge. Theoretically, truck drivers can charge between $50 and $100 for an hour after the free time expires.
How Do Standby Hours Affect Carriers?
According to the General Audit from the Department of Transport, for-hire motor carriers' yearly net income is adversely affected by more than $250 million. Generally, the wait times happen because of port congestion, but while your driver waits for loading and unloading, you're not hauling nor getting paid.
Learn more: 9 Financial KPIs To Measure The Health Of Your Trucking Business

Drivers have better performance when they can pick up the load quickly with timing that avoids rush-hour traffic and other challenges that further delay trucking schedules.
Bill HR 756 is one effort to avoid unnecessary delays and wait times, with regulations designed to prevent prolonged wait times. For example, according to the bill, shippers and receivers are not supposed to "detain" a person operating a commercial vehicle in the loading or unloading process beyond the set number of hours.

How Can Freight Factoring Help?



While charging for Trucking Wait Fees seems complex, your time on the road is crucial to making a living!

When you count on a Freight Factoring service, your chances to negotiate a better rate with your brokers increase significantly. Because the factor pays you immediately for your delivered loads and waits for the broker to pay them at the negotiated terms, factoring allows you to offer competitive payment terms to your brokers AND, at the same time, get paid right away for your loads. That way, your cash flow improves, and it's easier to include the Trucking Wait fee within your rate.

At Summar, we have the perfect Freight Factoring program for you, with fast cash flow advances to reduce your overall risk and costs! We're the funding partner that keeps boosting your growth while facing crucial market challenges as detention time! Discover everything we can do for you, and contact us today!