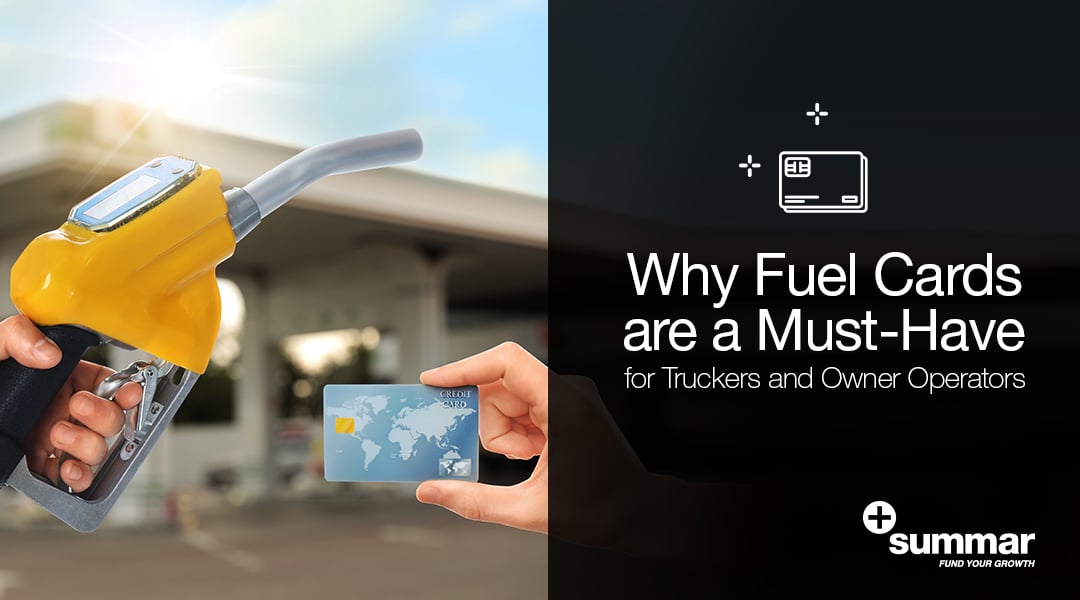 If you're the owner-operator of a trucking company, you know that times can be tight and keeping things moving isn't always easy. Especially in the current challenging economy, you're looking for ways to cut costs and see better cash flow. That's why finding the best fuel card for small trucking companies is so important. You can save on fuel at your favorite gas stations and couple the card with freight factoring for an even better experience. Here's what you need to know.
Reduce costs and save on Diesel prices
Saving on diesel prices can make a big difference in your bottom line. Since you spend so much of your outgoing funds on fueling your truck (especially now that gas prices are up), spending less can quickly tip the balance in your favor. But it's not just about saving money any way you can. You still need quality fuel at trusted gas stations in your area and nationwide. The best way to get the diesel you need at the right price is through a fuel card program.
These programs give you access to discounts at many popular stations, so it's easy for you to find a place to fuel no matter where you're traveling. With access to the biggest travel plazas and some smaller locations, you can save big on diesel prices with the right fuel card.
Many cards offer savings of 50 cents per gallon or more on in-network purchases, and you may also be able to save a few cents per gallon on out-of-network purchases in some cases. Because not every gas station brand accepts every fuel card company, the goal is to find a card that offers a substantial discount at a wide range of places where you would typically fuel your truck.

Increase time, safety, and convenience
Saving time is just as important as saving money, and if you're looking for significant fuel savings and more time, you want the right fuel card program. With a card, you don't have to mess with carrying cash or worry about how you'll pay for your fuel. Having a credit card declined or not having enough money on you can be a real disaster on the road. The best fuel cards for truckers make it easy to fuel and get back to driving.
There's nothing like feeling safe on the road, especially when you're always in new places that you aren't familiar with. With the right fuel card for owner-operators, you don't have to worry about where to stop, and you can choose convenient gas stations you recognize nationwide. Whether you make shorter trips or you're on a long-haul journey, stopping at a familiar station can increase your comfort level and sense of security.
Learn more: Improve your Trucking Route – And your Income – With These Pro Tips
Experience streamlined expense management and improve cash flow
Managing your expenses doesn't have to be difficult, whether you have one truck or an entire fleet. Having a card for fueling encourages streamlined expense tracking you don't have to worry about, so you can quickly see how much you've spent at your favorite gas stations.
A fuel card program is also an excellent way to improve cash flow. Using the card to get fuel, you're hanging onto your cash for other things during your journey. Then you can use some of your trip and delivery proceeds to pay off the card. It's an excellent way to balance the significant savings you'll receive from using a fuel card with paying your expenses efficiently. That's a winning combination for your trucking company.
Couple your fuel card with freight factoring
With Summar's fuel card and the option to stop for fuel at AM Best, Kwik Trip, Maverik, Sapp Brothers, Speedway, TA/Petro, Pilot, Flying J, Quick Fuel, and others, you get significant savings from a trusted company. It's the best way to save on fuel and still go to all your favorite gas stations to save more per gallon at many popular locations. Those savings can be reinvested in your company, making it easier for you to see business growth and development.
But that's not all. You can also couple this card with freight factoring to get paid quickly and keep your cash flow moving. Summar's fuel card for owner-operators is the best fuel card for small trucking companies looking to stay competitive. Experience better savings opportunities today!
Here are some of the benefits you gain with Summar's fuel card program
Huge Savings and expense control
Savings average 25 cents per gallon nationwide.
Rebate program: Receive the money you saved into your account every month.
Fuel Pricing Map to plan your route with your rebates in mind!
Discounts on Weight Scale Fees, Truck Washes, and other services in most locations.
Easy Management and User-Friendly Platform
Either assign purchase limits or deposit funds on your cards.
Virtual cards with dynamic pin.
SMS and email notifications on purchases.
Reporting, Integrations, and Data Access
Easy integration with your favorite ELD provider.
Detailed information for your IFTA Fuel Tax Report.
Keep track of your rebates with detailed transaction reports.


Book a fuel card demo today and start saving money!