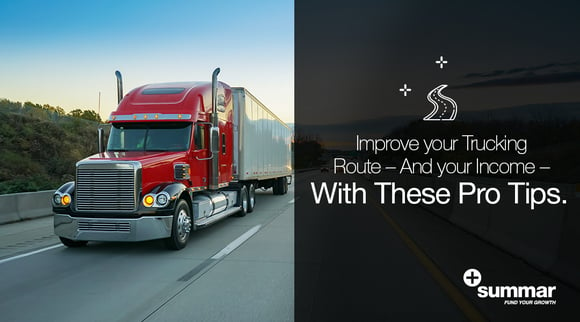 Step one, plan your routes. Just as you plan the significant milestones of your company, you need to work out the daily processes to achieve the best performance on each of them. In trucking companies, one of the tasks that require the most planning is the routing of every trip.
Now you can listen to our blog posts!
Planning your routes will help you have more control over your time, meet the schedules agreed upon with your brokers, program gas stops and breaks, and, most importantly, save on additional expenses and fuel consumption. Here are some tips to achieve it with ease:
Check load locations before accepting a haul
Doing so can reduce the number of empty miles you drive and assess the availability of outgoing hauls in the state or city you'll be going through. It will save you time and fuel costs, and knowing which areas have a high load demand will also allow you to negotiate better rates and increase your bargaining power. Avoid taking on loads that may require you to deadhead for long distances. It can be a significant drain on your time and resources. Don't underestimate the power of location scouting when making decisions to maximize your profits and ensure that your business runs as smoothly as possible.
Learn more: Simple Tips to Improve Your Negotiation Skills with Freight Brokers
Research bottlenecks and try to avoid them
In the last couple of years, driver habits changed. Before, we encountered lighter traffic and fewer vehicles on the road, but traffic congestion has returned to normal, and as such, bottlenecks all over the country are a reality again.
For this reason, the American Trucking Research Institute published a few weeks ago the list of the top 100 bottlenecks in the USA, and you should keep them in mind to plan better routes. The New Jersey side of the George Washington Bridge, where I-95 and State Route 4 intersect in Fort Lee, tops the list.
The report provides information on the average speed during rush hour and possible infrastructure obstacles. And if you know where the bottlenecks are, you can check better ways to arrive or consider them when estimating your operation costs.
Use specialized GPS tools for truckers
Don't worry; free GPS and routing systems are a timeless go-to. However, truckers can access specialized tools to obtain more information about each route and make the best of them. Calculating the miles traveled, programming more than one stop, and finding gas stations with a click of a button are some benefits of these systems. Automating these processes is simple and will allow you to focus on finding and hauling more loads.
In addition, digitally automating your routes will help you increase safety standards for your truckers, avoid using roads that are not truck-friendly, and consider the weather conditions along the way. Also, you can measure driving time and encourage your truckers to take breaks at the right time to improve productivity and boost their morale.
Breaks matter: use route planning to make the best of them
Driver shortage and driver retention were the top challenges for trucking companies in 2021, so each strategy you use should focus on your truck drivers' well-being. Your corporate culture and business growth will also thrive by improving the conditions behind the wheel.
When planning routes, include time for your truckers to rest and always be alert on the road. Check the best-ranked truck stops and see the best spots for your drivers. If their needs matter, your growth will be imminent.

Learn more: Choose the Perfect TMS for Your Small Trucking Company
Share with your fellow truck drivers and trust your experience
Sometimes, traffic can be tricky and unexpected changes may happen on the road; trusting your guts when you're an experienced trucker is crucial for keeping up the pace to deliver your loads. On the other hand, if you are a new trucker, you may not yet know certain tricks to make your life easier. Chat and network with other truckers; having friends on the road is always great!
Benefits of truck planning
When you program better routes, you will be able to:
Save on fuel and maintenance by monitoring the number of miles you drive.
Improve the speed of deliveries of your loads, increasing business productivity.
Achieve better negotiations with your brokers due to the quality of your service.
Increase the safety and well-being of your truckers
Make data-driven decisions with the tracking information of your trucks
Save and increase the profitability of each trip.
Use Summar to improve your business!
Understanding the needs of truckers has been our priority for almost 20 years. Therefore, offering solutions that allow them to get closer to their dreams every day is part of our DNA.
Process automation is crucial for small freight companies, and with Cargo Blaze, you will access the potential of technology customized to your needs. Discover our features to calculate mileage and program your routes while you benefit from a freight factoring program to fund your growth!
Discover more about freight factoring and how speeding up your deliveries and the payment of your invoices will allow you to increase your cash flow to keep growing. Contact us today!