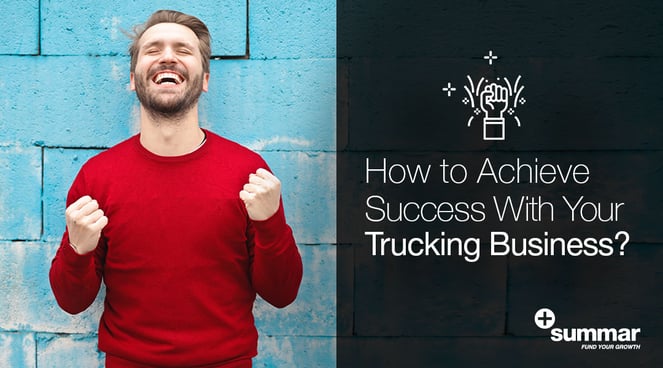 All companies were born from the dream of success. We know the day you set a milestone by starting your own business, you hoped for it to succeed in one of its stages. At Summar, we know that startups require support to fulfill this purpose. We will show you some aspects that you must remember to keep success as your primary objective from day one, starting from healthy planning of your cash flow.
Explore how your business should work
Before you start with your business's legal and logistical setup, you must have your principal indicators of success on your radar. In addition to knowing how your operation will work, you must know the details about the total investment you require to keep you on the road and what your strategy will be to access new business.
Register your company according to your professional activities
For freight companies, documentation is essential to start a business off on the right foot. When registering, you must choose a name with a high impact, short, and easy to remember. Thus, you will achieve brand development that will allow you to always be in the minds of your customers.
After this, choose an entity type, either LLC or Corporation. You should base this decision on the type of structure you want to use in your business. Keep in mind that this will determine the annual requirements that you must meet, in addition to the tax burden that will apply to your operations. These are the main differences between the two schemes. Find in this article from the U.S. Small Business Administration more details on choosing the one that best suits your needs.
Keep your licenses up to date
The necessary documentation to master the country's highways includes DOT and MCA numbers.
The USDOT number works as a unique identification document that collects the safety information obtained from audits, accident records, and general inspections performed on your trucks. The entity in charge of issuing it is the Federal Motor Carrier Safety Administration, who has this useful guide to help you with the process. Remember that this number is essential to operate in your state.
In case you need an interstate operating authority, in addition to your DOT number, you must process your MCA number, or Motor Carrier Authority, which will allow you to take loads to different states of the country. Learn more about this document here.
Insure your operation
The use of insurance in your freight operations will be essential to meet your brokers' expectations if any inconvenience happens along the way. Take on any of the challenges that the road presents you with these two crucial insurances for your trucking company.
The Liability insurance will respond to any possible accidents or delays you may have during the delivery of a load. Carriers, shippers, and brokers can purchase this type of insurance, depending on each one's needs in the event of unforeseen incidents. However, it has a focus on the responsibility and processes of each company within the operation.
With Cargo insurance, you'll have better coverage of the risks of shipments on the road. From possible accidental damage, loss, and theft to unpredictable natural events. This insurance is usually an added value for your clients that will guarantee the success of each operation.
Choose the ideal trucks for your loads
Once you have your documentation up to date, you must choose the trucks that best suit the type of cargo you want to transport. There are many options! You can refine them according to your budget and capacity.
When you choose your truck, regardless of whether it is new or used, ensure that the warranty period of its components is current and will cover any repairs due to quality. Also, make sure you feel supported by the brand's experience and that they will answer in case of any inconvenience about your investment. If you choose a used truck, you must validate its current condition and age. Remember that many companies do not offer insurance for trucks with more than eight years of use.
Check out more tips to expand your fleet here.
To insure your operation and invest in the fleet of trucks that you need to meet your brokers' expectations, you must rely on an optimized cash flow and immediately available funding to proceed with payments that do not wait for you. Check out how you can make it possible with a freight factoring program!
Train your drivers
Now that your infrastructure is complete, you need to think about the talent to use and manage it. Therefore, you must establish hiring processes that allow you to have the best drivers. These are some of the values that you should look for in your candidates:
Discipline in the execution of processes and the ability to organize the essential documents of your loads.
Punctuality picking up and delivering loads.
Orientation to comply with state regulations and conditions imposed by your brokers.
Ability to keep the truck in excellent condition.
Years of experience and miles traveled.
Lastly, don't forget to validate that their commercial driver's licenses are in order.
Build your relationship with brokers and shippers
Take care of cultivating your relationships with brokers and shippers to improve your reputation day by day, close new businesses, and expand your operation. Promote that your customer service quality and attention to every detail in deliveries are always excellent. If your brokers know that you are the best, they will choose you for future loads.
Finally, keep in mind that a good cash flow will be essential to guarantee your company's growth, especially during the first months of your operation. Remember that you must assume different expenses for each load and that on many occasions, your brokers will pay your invoices time after the delivery. To avoid these delays, you can use factoring, which consists of selling your invoices with payment terms to fund your operation in as fast as two hours. This way, you can take care of immediate costs without any inconvenience and even receive fuel advances.
Choose Summar as your new factoring company! We will fund your growth quickly and easily, and with the best service in the market. Contact us and find out more from our agents!