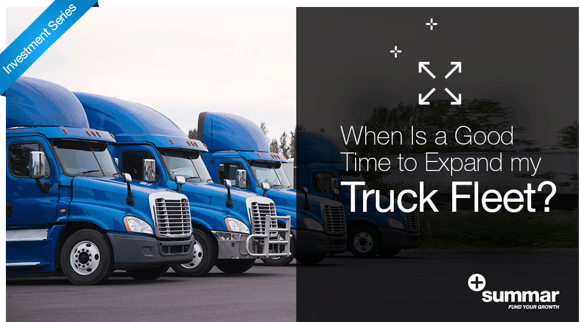 In this day and age, it's essential to have a truck fleet that can meet the ever-increasing demands of your customers. If the idea of expanding your truck fleet has been on your mind for some time, it may be in your best interest to consider moving forward with the process. As with any business, the best time to expand your operations is whenever your demand and income allow you to move forward with your decision, and your cash flow keeps moving positively. Let's explore the benefits and best practices needed to grow your truck fleet.
Have Good Relationships with Brokers
While you may have the current demand for adding a few or many new trucks to your fleet, you must have good relationships with brokers before you move forward with your expansion. Your brokers are how you gain access to contracts and customers. If you are on uncertain terms with your brokers or have not received some steady contracts, you will want to hold off on your expansion. Otherwise, you may make an investment that cannot provide you immediate returns.
To improve your current relationships with brokers:
Focus on starting conversations rather than asking for business.
Find out if you can improve on any of your services, which will help them satisfy their clients' needs.

Introduce them to others in the industry that aren't your direct competition.

Give them better payment terms without affecting your cash flow through factoring programs.
When you shift the focus on your relationship with brokers from jobs only to a professional friendship, you can significantly improve how well you can communicate with them. Relationship building is key to any business, and this is especially true if you are ready to expand your trucking fleet.
Learn more: Simple Tips To Improve Your Negotiation Skills With Freight Brokers
Ability To Take On Different Types of Loads
Your current truck fleet may allow you to serve a variety of industries or only specific needs. When you expand your truck fleet, you gain the ability to take on different load types for your customers. Depending on your market, you could begin to take on loads that require refrigeration, protection from the weather, or oversized specialty shipments.
You can use the following tools to understand your current market demand and decide when you are ready to expand your fleet and service offering:
DAT: review trucking industry trends in addition to gas prices
Trimble: analyze your costs, routes, and services
GoFrieght: view your daily work, tracking, accounting, inventory, and security
Whatever direction you take to expand your truck fleet, you gain the potential to serve a new, larger customer base. In addition to having an adequate fleet for different types of products, you must have the ideal cash flow to accept loads at any time without risking your operation. We can help you fund your loads as fast as in two hours!
Effects That Expansion Can Have on Your Service
Your truck fleet expansion can present you with new business opportunities. It's important to remember that you must still retain your high quality of service throughout your expansions. Simply because you have more jobs you can complete does not mean that the level of care to customer products should diminish.
As your truck fleet expands, you will likely need to hire new drivers. You should implement a thorough hiring process to ensure only the best drivers that align with your values are working with you. This will allow you to sustain the same high quality of service brokers and customers have come to expect.
Additionally, your expansion will inevitably require some form of investment. You must determine if you will save in advance, take out a loan, or use a combination of these financing options to get started with your expansion. Regardless of how you move forward with your financing, you must have a specific process of reviewing and approving these financial decisions. This may include increasing your service pricing to cover the related costs.
This expansion process will require you to improve your cash flow, your relationship with your clients, and the management of your collections. Whenever you are ready to take the first step towards expanding your truck fleet, reach out to our exceptional team at Summar. We are committed to funding your growth with our tailor-made factoring programs, improving your cash flow for you to increase your fleet, and achieve your goals! We are the partners you need to help you navigate through the process. We offer you no-hassle funding, with no chargebacks and transparent pricing.
You can learn more about our Freight Factoring services clicking here!