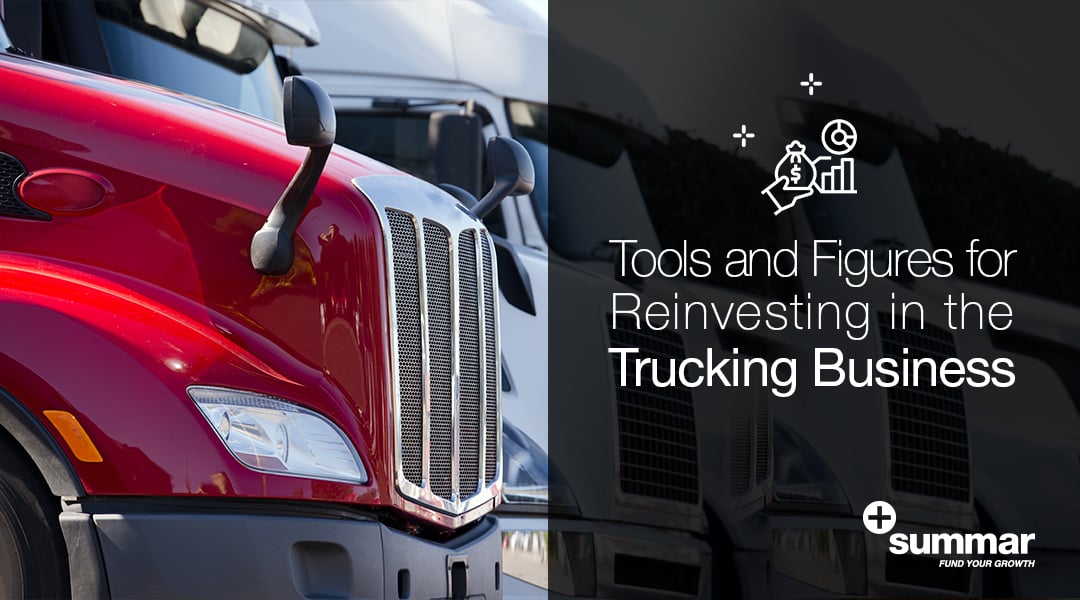 Trucking business owners need to reinvest a certain amount of money every month, quarter, and year to keep growing their business. This ensures positive cash flow thanks to a consistent increase in sales. According to NASDAQ, the magic amount is 50 percent. For a trucking company, this reinvestment includes profits, and the other includes used trucks and equipment. Profits from delivered loads and lumper payments, as well as insurance and freight claims, can be put to use in several areas; and factoring is a great way to access these funds safely and easily.
Now you can listen to our blog posts!
These are some suggestions on reinvesting your profit to improve productivity and boost your trucking business growth.
Reinvest in Truck Drivers
The most important aspects of any trucking company are the drivers and truck fleets. Without highly qualified and trained truck drivers, your company will incur more DOT penalties and greater insurance risk, as well as more missed loads and loss of customer satisfaction. Having a highly trained pool of CDL drivers readily available for every load opportunity is the best way to grow any trucking business. Here you should invest 20 percent in areas that serve the drivers currently working for your fleet, as well as the drivers you intend to hire. Essential to a strong driver fleet are reinvestments in:
Driver health and wellness

New driver onboarding

Safety training updates
Truck driver CDL training

Go Higher Tech With Factoring and Automation
For another 10 percent of your trucking business profit, think in terms of technology. According to Fueloyal, top factors influencing trucking companies include unpaid invoices, payment delays, and regulatory requirements. Here is where having the right software, automated service, and back-office processes will help to improve gains in these areas.
Learn more: Technology Is A Good Investment For Truckers, Discover Why
Consider how much easier it would be to automatically submit invoices to shipping customers and payroll paperwork to truck drivers. When you digitize and automate these manually intensive and necessary tasks, including filing regulatory paperwork, you reduce human error and cut back on payable work hours needed to do these operations.
These are tools to help with this goal, like tailor-made Freight Factoring Programs. Through factoring, you will control your accounts receivable, speeding up their disbursement, optimizing your cash flow, and reducing the risk of unpaid invoices. Along with Summar, you will also have access to Sumar App, wich will help you accelerate your growth.

Management Investments to Solidify Your Company
Another area of technology is in your back office. Starting in the back office, at the minimum, your company should have computer and internet capabilities, as well as accounting software. From here, you want to improve upon these basic back-office assets to increase your efficiency. One way to solidify your freight company is by using load boards like DAT, which has nearly 250 million trucks and truckloads posted annually. See where demand is the greatest, so you can adjust your search location for trucks and freight loads to increase efficiency and payout.
Reinvest in Trucking Equipment
To make the greatest gains on the return of the initial investment in a fleet of trucks and trailers, go for used truck sales. By financing and selling used equipment as part of your trucking company, you incur a healthy form of passive income. Take 20 percent of your company's profits and reinvest it in this area through marketing and advertising, as well as hiring employees and managing online sales.
A passive income from trucking includes selling used trucks and trailers locally and online. Once your fleet becomes dated or out of commission, you are tasked with finding a way to regain your investment. Truck investing allows your company to receive passive income, which is also called residual income.
For instance, you can sell a used truck for half of the price and reinvest the sales of two used trucks into the purchase of a new truck. That is a direct gain from the reinvestment of passive income into your trucking company. You control the sale and can also include financing for truck owners that increases this passive income through interest, fees, and other services.
Financing Through Factoring
To improve reinvest capacity, consider funding your growth through factoring. Minimize wait time between sending out invoices and receiving payments. Speed up processes with Summar's Freight Factoring Programs.

We support trucking operations' goals of flipping invoices in a fast and easy way for your company. Receive payments almost instantly when loads are delivered. By accelerating your cash flow from your accounts receivable, your daily operations become an investment powerhouse.

To find out more about our tailor-made funding and revenue reinvest opportunities for your trucking business, contact us today.