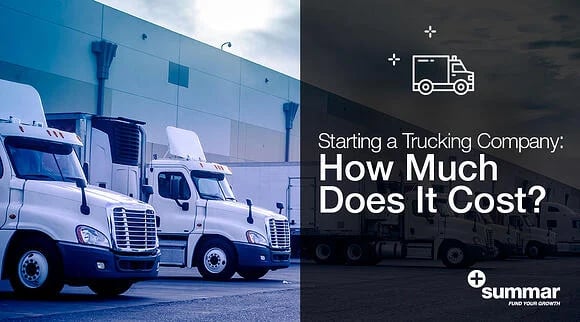 The creation of a trucking company, like any new business, comes with excitement and challenges. But due to the size and scope of a trucking company and all the logistics needed to operate it, the costs and requirements can be higher than expected. By learning about those costs before starting a trucking company, you can be in a much better financial position to follow your trucking dreams. But where should you begin?
Now you can listen to our blog posts!
The Basic Requirements
Before you begin on your journey to start up a trucking business and become an owner-operator, be prepared for the idea that start-up costs will generally be between $6,000 and $15,000 -- and that's before you buy any equipment. A breakdown of the expenses can help you decide whether to move forward or not. Keep in mind that you'll have both fixed and variable costs, so preparing for both is important.
Here are some main areas you'll want to carefully consider, in order to give yourself and your new trucking company the best possible starting point and a chance of success.
Business Registration is Necessary
You'll need to register your business with the state where you're located. You might also have to register with the city or county where you're doing business. While the cost of registration differs from one state to the next, you can expect to spend around $500 to get all your registrations completed. That's a relatively small expense, but it's one that you'll want to budget for and be aware of, so you don't end up having to pay more than you're expecting.
UCR and DOT / MC numbers Have Costs
The UCR (Unified Carrier Registration) fee is just under $70 for one vehicle, and slightly over $200 if you're registering between three and five vehicles. It's a required registration, so even though it doesn't cost much you don't want to ignore it. Every trucking company also needs a DOT (Department of Transportation) registration number, which is also sometimes called an MC number.
You Will Need a CDL License
Having a Commercial Driver's License (CDL) is required if you're going to be driving a truck. If you're not doing the driving, make sure all your drivers have the proper licensing they need. Endorsements to the CDL may also be necessary, such as those for Hazmat (H), Passenger transport (P), and transporting hazmat in a tanker (X). You can't use one endorsement for all and will need three separate ones to ensure you comply with all the laws your trucking company and its drivers must follow. A Hazmat endorsement is approximately $187, while the passenger endorsement and tanker hazmat options are only around $14 each.
Understanding the Need for an ELD
An ELD, or Electronic Logging Device, is a requirement for all US-based commercial motor vehicles, to be in legal compliance as of 2020. These devices make compliance easier than ever before, as well. Your trucking company and all its drivers can be sure they're logging their hours, meeting rest-to-drivetime ratios, and handling the loads they travel with correctly. Whether you're a single owner-operator who owns one truck and drives it yourself, or you have a fleet of trucks and drivers while you work from an office, using ELD technology is an excellent way to help your company remain compliant at a cost of around $495 per truck, per year.
Buying a Truck - New vs. Used
You can't be a driver without a truck, and you can't have a trucking company if you don't have at least one truck, as well. But should you buy a new or a used truck? You might think that paying less would be a good idea, but you also have to remember the number of miles and the wear and tear these trucks undergo. If you pay more for a new or slightly used truck, you'll most likely pay a lot less in repair costs over time. If you can find a truck that's not too old, and that has excellent maintenance records, that can be one of the best choices for buying a vehicle.
You can expect to pay between $15,000 and $175,000 for your truck, depending on how old it is and other factors such as the maintenance schedule, whether it has been in an accident, and its mileage. If you can afford it, you should look for a truck that's no more than five years old, and that offers a Detroit Diesel engine and an odometer that doesn't have over 600,000 miles. That way you can expect to drive that truck for as many as 10 years, all without the likely need for expensive repairs. That doesn't mean the truck can't break down, but your chances of that will be far less. Your insurance premiums will be lower, as well.
Trailers Are a Big Expense Too
Brand new trailers can cost between $30,000 and $80,000, but you can find used ones that aren't as expensive. Just like with the tractor (the actual truck), you want to make sure you're getting a quality product that's not too old and that's been cared for properly in the past. That will reduce the chances of problems on the road and can also keep your maintenance costs much lower than they might be on an older trailer that isn't as sound or high quality.
Insurance is Needed to Protect Your Investment
You don't want any of your trucks on the road unless they're properly insured. If you have a truck in good condition, you'll pay less for insurance. An older truck without current safety features and with a higher chance of problems could cost you as much as $10,000 per year to insure. Driver experience affects the rate, and in some cases, you can use ELDs to lower your premiums, too. Not that many companies will ensure your large trucks, so when starting a trucking company, it's a good idea to shop around and find the right price and policy terms for your company's goals and needs.
No matter what you decide to do when starting a trucking company, remember that quality equipment and compliance with the law are the biggest considerations. When you have good equipment and all the registrations and licenses you need, you show that you're serious about the company and you want to do things right. That will help you get customers and keep you on the right side of the law, as well.
The next step is to choose the perfect factoring company, one that's your best ally and closest financial advisor.
Summar Financial
offers the best factoring programs, tailor-made to your company's needs, so you can enjoy your work and grow your trucking company over time. To help you get started, we offer a Trailer Leasing Program with 2005 and newer dry van trailers, ask us about the program if you want to learn more. Last but not least, our fuel card program and fuel advances will help you save money and ease your travels. Give us a
call or fill out our form
and get funded right away. We can help you get started.