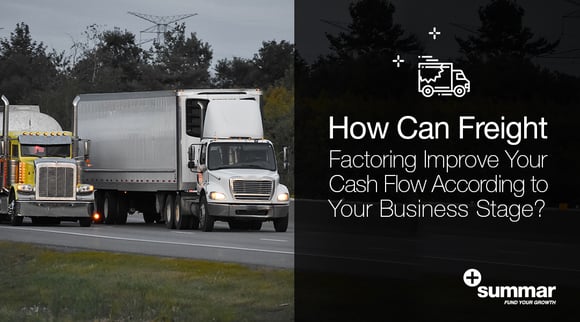 Funding challenges for trucking companies creep up at any possible moment. In the beginning, there is a funding need at the initial stage to get a company started. Then you are faced with kickstarting growth when you want to scale your business. And financial obstacles also stand in your way, including unexpected decreases in cash flow. Therefore, you should consider quick, safe, and easy options to improve your funding at any time. Consider these best practices when choosing any financial service whenever your business needs it.
Initial Stage of Running a Business
When your trucking business begins, you will have some expenses to cover before your income is stable.
You can use crowdfunding as a professional and straightforward way to request funding for any business, including trucking, from your friends and possible future customers. Here you do not have to have collateral or a co-signer.
Also, investigate putting together a bank loan request for a line of credit to help jumpstart your new operations. With a business plan and financial statement in hand, you may be eligible for other financial services, including a business account that incurs interest.
If you don't think your friends and family will crowdfund your company, or you don't have a (fair) business credit score, option number 3 will be perfect for your business: factoring. Factoring allows you to sell your outstanding invoices and receive the payment for your delivered loads within hours instead of weeks—no need to ask others for money, nor to apply for a loan.
To Kickstart Growth
When your trucking business is established, you will be familiar with your costs and ops behavior. You'll undoubtedly discover that you will have the operational capacity to take more loads, but your cash flow will restrain you from doing so.
Once again, a loan or a line of credit can be a convenient way to gain access to the capital needed to grow your business. First, however, you'll need to gather as much data about your business as possible to make a strong case, and once you get it, you must make sure you'll meet your monthly payments on time.
A more suitable solution is factoring, a debt-free and risk-free financing tool that will enable you to take more loads. It will also help you gather information about your operation. As Forbes notes, "the key to driving continuous growth is having a data-driven growth process," which 42 percent of companies lack. Talk about smart growth!
Learn more: What Invoice Factoring Is and How It Works
Before a Decrease in Cash Flow
Throughout the year, seasonal changes affect trucking businesses at large. Therefore, companies need to find ways to protect themselves against a decrease in cash flow. You'll benefit from a funding method such as factoring for various reasons:
You won't have to pay monthly installments when the market is slow.
By choosing another party to manage invoices and collections, you reduce the load and burden of this back-office task.
Depending on the factor you choose, it might protect you against possible non-payment of your invoices by your broker.
Factoring With Summar: Your Best Funding Choice
At Summar, we know the challenges you face and that a healthy cash flow is crucial for your growth. For more than 17 years, we have worked with truckers at all stages of their business, which has given us the experience and adaptability to serve you better and the financial strength to have your back the fast and easy way.

After all, it is not just a matter of funding, but how it allows you to access new opportunities while protecting your operation. Think of us not just as a factoring company; but your funding partner every step of the way! Benefits like an exclusive credit guarantee, 2-hour funding, fuel cards for advances and discounts, and a designated account executive; will allow us to be as dedicated to your business success as you are!

Using factoring will speed up the payment of your invoices and open the door to an optimized cash flow! In addition, with Summar's Freight Factoring, you will be covered against non-payment risks, reduce your back-office processes, and plan your growth!
Discover more about the benefits of Summar Freight Factoring for your company. Contact us today!