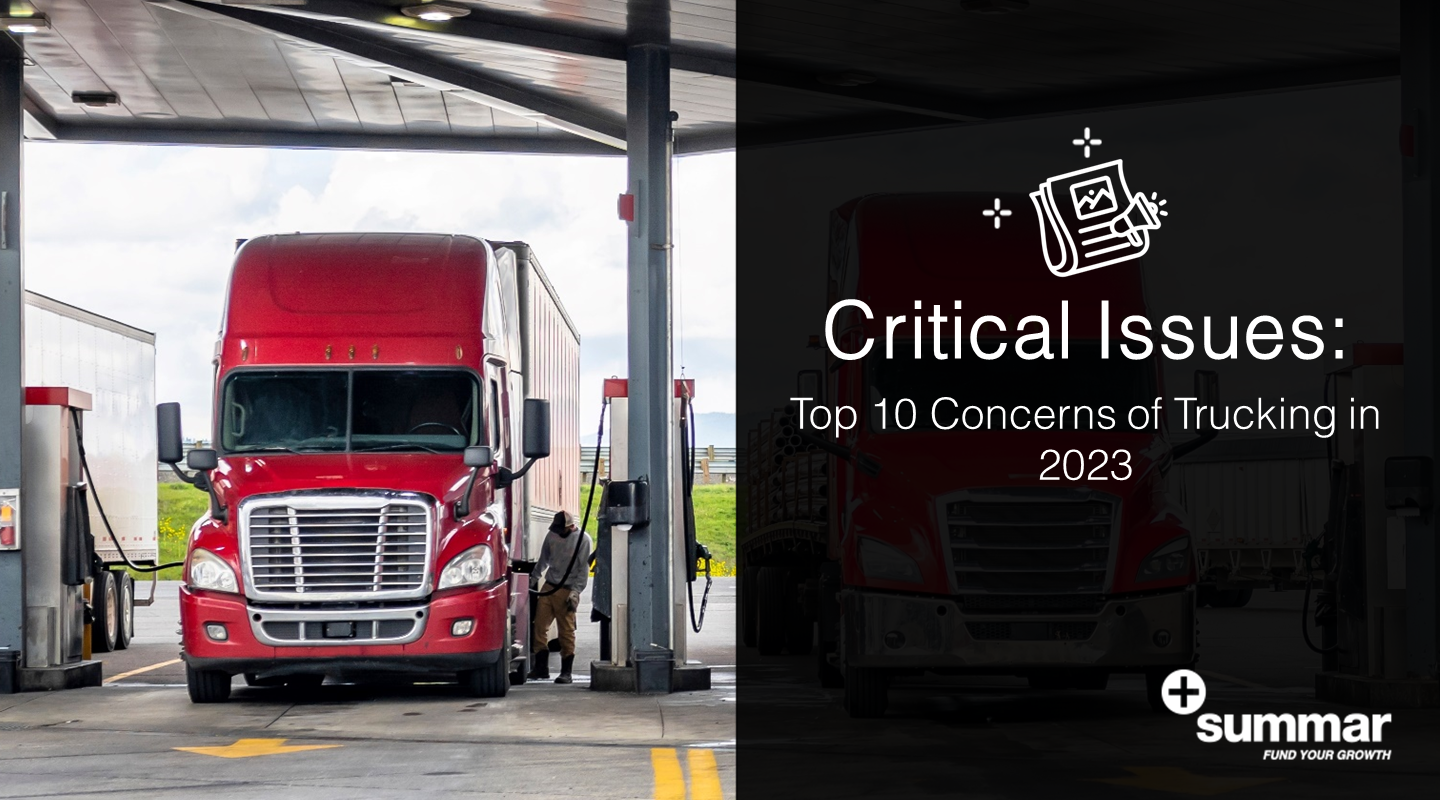 Atri's annual report sheds light on the critical concerns for carriers and owner-operators in the ever-evolving trucking industry.
Although perspectives on various issues may differ, the report highlights common ground in the key challenges that will define the freight landscape in the coming year. The U.S. economy, truck parking, and fuel prices have emerged as issues of mutual concern for the near future.
| | |
| --- | --- |
| Rank | Issue |
| 1 | Economy |
| 2 | Truck Parking |
| 3 | Fuel Prices |
| 4 | Driver shortage |
| 5 | Driver Compensation |
| 6 | Lawsuit Abuse Reform |
| 7 | Driver distraction |
| 8 | Driver Retention |
| 9 | Detention/delay at customer facilities |
| 10 | Zero-emission vehicles |
Economy
Inflation, high-interest rates, and surging diesel prices have played pivotal roles in driving up operational costs over the past year, which reached an all-time high of $2.25 per mile in 2022. Projections suggest these costs will remain above $2.00 per mile for some time. The truth is the economic outlook remains uncertain, as interest rates, overstocked inventories, and high operational expenses will continue to influence the economy.
Atri's report proposes several solutions, including nearshoring to stimulate the demand for trucking services and reconsidering reforms such as the Zero Emission Trucking initiatives. It's worth noting that these solutions while promising, are not immediate and may require extensive discussion and time before implementation.
Truck parking
Truck parking shortages have long been a pressing concern for truckers. The full enforcement of the Electronic Logging Device (ELD) mandate in 2018, which restricts truck drivers to a 14-hour driving window, has further underscored the urgent need for adequate parking. Atri's report reveals that truckers spend an average of 56 minutes each day searching for parking spots, with only one available for every 11 truck drivers.
Despite being a priority concern since the enactment of the Infrastructure Investment and Jobs Act (IIJA) in 2021 and increased funding for parking space improvements through the Biden-Harris grant of $80 million, there remains a pressing need for federal reforms to enhance parking conditions on a national scale, rather than addressing the issue only in specific states.
Fuel prices
In 2022, fuel costs surged by 58.7%, making up 28% of carrier operational costs. Although there was a brief respite at the beginning of 2023, fuel prices have risen again with OPEC's production cuts, making it a persistent concern, especially for owner-operators who have ranked it as their top concern for three consecutive years.
One of the critical strategies proposed is advocating for federal actions that help stabilize fuel supply and minimize price increases. This may involve expanding refining capacity, increasing domestic drilling, or continuing to tap the Strategic Petroleum Reserve.
Learn more: Why Fuel Cards are a Must-Have for Truckers and Owner Operators
Key Takeaways: Differences Between Carriers and Drivers
While drivers and carriers share the concerns mentioned above, the survey results highlight differences in their priorities. Carriers tend to focus on economic and industry-related issues, such as the driver shortage and the lawsuit abuse reform. In contrast, drivers are more concerned about their compensation and challenges while operating on the road.
Top issues for carriers and drivers
| | | |
| --- | --- | --- |
| Rank | Carriers | Drivers, including owner-operators |
| 1 | Economy | Driver Compensation |
| 2 | Driver shortage | Truck Parking |
| 3 | Lawsuit Abuse Reform | Fuel Prices |
| 4 | Driver Retention | Speed limiters |
| 5 | Fuel Prices | Detention/delay at customer facilities |
| 6 | Insurance cost/availability | Driver training standards |
| 7 | Zero-emission vehicles | Economy |
| 8 | Truck Parking | Broker issues |
| 9 | Diesel technician shortage | ELD mandate |
| 10 | Driver distraction | Autonomous trucks |
Both groups express concerns about emerging technologies, including autonomous and electric trucks, and their impact on future costs and operations, especially the aggressive timelines imposed by state and federal agencies to shift towards zero-emission trucks.
A Solution for the Slow and Challenging Markets
One way to alleviate the impact of a slow freight market as a carrier or owner-operator is to consider freight factoring services. Cash flow is essential to ensure your trucking business keeps moving, and in the face of delayed payments, it offers a lifeline free of debt.
In Summar, we've been working with truckers for almost 20 years, through thick and thin. We can provide freight factoring solutions to allow you to receive immediate payment on your outstanding invoices. Instead of waiting for shippers or brokers to pay, ask us to purchase these invoices at a discount, and we will provide you with immediate funds. Cash flow can be a game-changer, especially during market downturns.
Contact us to learn how we can help you mitigate risk and support your business's growth!