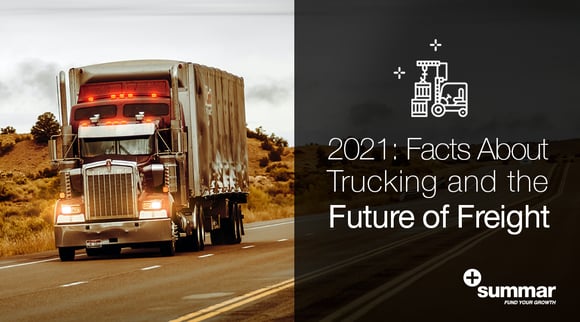 It pays to start with the driver when discussing how the trucking industry will evolve over the next six months as we roll into 2022. Freight is on the rise, and the trucking industry needs more truck drivers to manage. To maintain the demand, companies are also working with the constant rise in freight rates. The idea is that drivers will earn a better income as a result. See exactly how drivers and freight loads are being managed for 2021 as we anticipate the next year, and see why factoring is the best choice to keep growing as the peak season of the year starts.
Fewer Drivers in the Pool
The most significant change in the trucking industry in 2021 has been due to the COVID-19 pandemic and the economic recovery. A decline in drivers has resulted from drivers who are no longer driving due to different conditions. There is also an increase in trucking company closures due to the halt of local deliveries to retailers, restaurants, and other in-person places of business during shutdowns.

Those truck driver hopefuls who are trying to start a career are the most benefited right now. The Department of Transportation Driver License Services and truck driver training schools are facilities that involve person-to-person contact in a closed vehicle. While these were closed throughout COVID, as of August 2021, most trucking schools and DOT offices around the nation appear to be in operation.
As was the case pre-COVID, you must request an appointment to schedule your CDL exam at the DOT. This can take some time depending on how many other driver trainees are ahead of you in line. If you are interested in taking in-person truck driver training that is required to get a CDL as a new driver, you are also looking at a longer wait time than usual due to the pandemic.



Driver Shortage Deepens
This is causing the driver shortage, which was historically a concern, to be more pressing than ever. In fact, there has been a 38 percent drop in driver job posting activity from 2019 to 2020. The issue is that trucking job posting online is shown to be ineffective. Most likely, based on the Department of Labor survey of job skills obtained by truck drivers, they are not using the internet to find a trucking job.
Learn more: Build An Easy Strategic Business Plan For Your Trucking Company
In short, the truck driver shortage implies that the truckers' demand is increasingly high, based on how important is this job for the products distribution and the re-establishment of supply chains. As soon as financial aid packages begin to decrease in value, this situation may change. For now, trucking businesses should focus on offering the best quality working conditions and corporate cultures that allow them to keep their staff happy and continue to grow, taking advantage of the way driver shortage is shaping the industry.



Freight Drops Rise in Demand
As businesses see in-person sales pick back up, the increase in inventory puts pressure on the trucking industry. Here is where carriers pick up the pace for 2021 and into 2022. Yet, the decline in available drivers pushes the freight demand even higher.
According to Truck News, the for-hire freight sector is softening but is continuing to remain steady. From June 2016 to June 2021, the Freight Transportation Services Index peaked at 141.9 in August 2019, while the lowest point was at 125.5 in April 2020. For June 2021, the value was high again at 136.9, which is a 5.9 percent increase from June 2020. The fact that this index is high but holding steady shows that 2022 will continue to place demands on the trucking industry in terms of driver and carrier capacity.



Final Say About 2021
Ultimately, for 2021, the rush for inventory and push to boost the market will be combative with the driver shortage and the quality of service from carriers. The only way to slow down the freight market and stabilize freight prices would be to ensure a steady stream of capable commercial drivers. The industry also needs a way for potential drivers to find trucking jobs that they are missing and better work environments to ensure driver retention. For now, as the challenges are faced for trucking companies effectively, this landscape is very positive to the growth expectancy of the industry.



Jump Right In With Freight Factoring Services
Trucking companies working to grow their business during this time should consider freight factoring. The use of Summar Freight Factoring services will improve cash flow and overall funding for freight carriers. With faster payments, you will be able to make a profit from the rates increase by supplying without any hassle the general condition of driver shortage with your trucking business. Accepting loads quickly and easily is the key that your brokers need to ensure their satisfaction.

Contact us today to apply for your tailor-made Factoring program! Let us tell you what we can do for your growth!