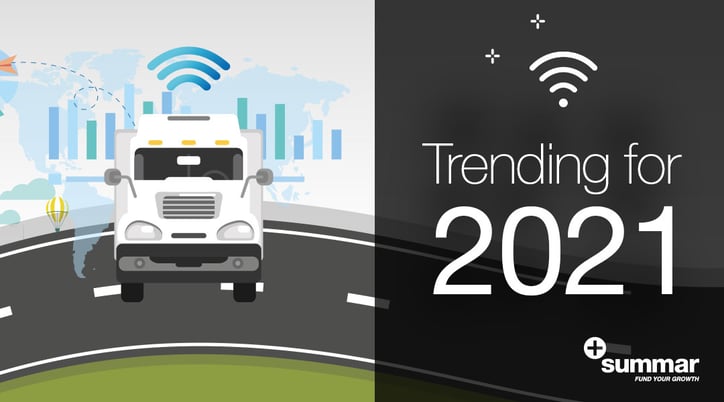 While some of the growth expectations for 2020 indicated that the economy would slow down, the events of the year were entirely unpredictable.
No forecast could've contemplated the impact that the current health emergency has had on the results of all industries. This year's disruptions have now reset all predictions and forced businesses to reassess their priorities, making 2021 a year of transition and reconfiguration as a way to evolve, learn from 2020, and be ready for everything the future holds. The later is also true for the trucking industry, which, although it has not stopped, has been shaken by its own challenges.
2021: a transition year
In 2021, as the world economy recovers, most companies will focus on rethinking their principles, processes, and value offer. Efforts will include the constitution of risk management plans that will allow them to face unprecedented situations, and technology investments to accelerate their digital transformation to a more humane approach to the processes, including specialized health care.
So, what's going to be the trend of 2021 is to become more efficient, humane, and agile to ensure survival, recovery, and growth. In the trucking industry, this means using specialized technologies and reinforcing the back-office, among other strategies.
Gaining control
While you can´t control a global pandemic occurring, you can gain control of other variables that affect your business, such as fuel and drivers.
One of the most significant expenses of the trucking industry is fuel. Fuel expenses increased by 17.7 percent from 2008 to 2018, according to the American Transportation Research Institute (ATRI). Also, fuel is the most volatile expense for carriers because of the constant fluctuation of price. There is no way to predict its price, so setting fuel surcharges on freight is difficult. Setting up contracted rates can be a bad investment if the cost of fuel surges or drops drastically during a contracted shipping period.
On the other hand, most small and medium trucking business owners have apprehensions regarding hiring new drivers that might not live up to their expectations and harm their businesses.
The best way to monitor both your fuel expenses and your drivers is with ELD data. Now that trucking companies have used electronic logging devices for close to two years, carriers have plenty of driver data to dig through. Here you can see which drivers are performing behaviors that adversely affect fuel use, such as speeding or applying hard braking and also analyze their actions behind the wheel to detect what generates health risks. Based on the information collected about the number of hours driven, compliance with the driver hours normative can be guaranteed, making drivers take the necessary breaks and sleep the hours required for their performance to be ideal.
Automating Operating Expenses
To help them reduce their operating expenses, carriers are turning toward automation in back-office practices. This is coming full circle with software systems ready to install for trucking companies to manage everything digitally. From invoicing to sending out paychecks, everything is managed either in the cloud or at least virtually, saving customers, shippers, and drivers time and money, and also complying with social distancing laws that will remain for the first months of 2021.
Electric Big Rigs
While we have yet to see the Tesla Semi or Nikola One or Nikola Two roll down the highways and byways, there are still electric trucks on the horizon. One of the biggest trucking trends here is that more shippers and store distribution centers will have electric trucks for 2021. However, these are not for over the road long haul trucking jobs just yet. Instead, these trucks are handling last-mile delivery and short-haul distribution.
DHL, FedEx, Amazon, UPS, and Anheuser-Busch are already on reserve or have orders in for electric delivery vans and Class 8 semi-trucks, starting in 2021. Also, a lineup of electronic trucks by Volvo Trucks NorthAmerica is set for next year, but otherwise, everything else appears to still be running in pilot or test mode.
The biggest holdup is the lack of electric charging stations and infrastructure to allow drivers to handle charging up while over the road. Until we have a steady source of e-power stations for up to Class 8 tractors to utilize, it will continue to be a slow go of it for the electric truck market. At the same time, we also need companies like Daimler Trucks North America, Freightliner, Volvo, Tesla, Nikola Motors, et al. to be pioneers in helping to establish those charging stations in an updated power grid for the nation.
However, once this gets set up and going, we can anticipate an increased drive toward electric big rigs among carriers. This reflects the first trend--finding ways to save money on fuel. An electric truck requires no fuel, just battery power.
We know that trends keep pace with the market, so in 2021 we will see accelerated progress in the freight industry, representing significant challenges for businesses like yours. To keep up, you must have allies that allow you to have an ideal cash flow to continue growing in this time of economic reactivation.
Did you know that factoring is an ideal funding option for companies at a growth stage? Invest in your expansion, knowing that you have the resources to grow at the speed of the market and the new trends. Count on Summar Financial services to achieve your dreams and make your life easier, without chargebacks or hidden fees. Apply now and trust our experience with your future!