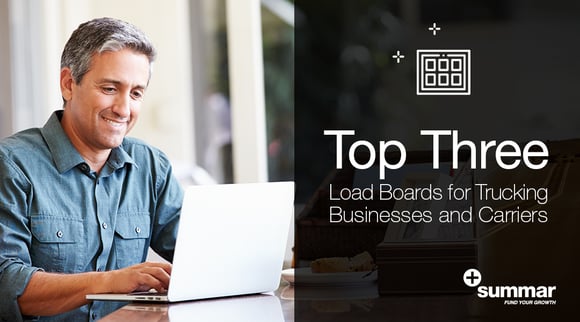 The best load boards in 2021 include some of the longest-running service providers in the industry. Along with DAT, you also have Direct Freight, with a combined 70 years of experience working for the carriers. While these two freight data services have a trusted reputation in the industry, you will see a lot of Direct Freight. Check out why that's the case and how you can benefit from choosing the best truck load board for your business.
Now you can listen to our blog posts!
Dial-A-Truck (DAT)
Dial-A-Truck (DAT) is a freight load finder service that got its start in 1978 in Portland, Oregon. The DAT freight and analytics service was originally available through the Jubitz truck stop. DAT has since grown to become the most popular and diversified truck load board with more than 887,000 new loads posted daily. This company now manages the following services:
DAT Power

DAT Express

DAT TruckersEdge—Standard, Enhanced, and Professional plans

DAT MembersEdge for OOIDA (Owner-Operator Independent Drivers Association)

The DAT services do not come with a free trial, but fleet operators are encouraged to sign up for a free demo of the platform. Otherwise, DAT TruckersEdge is the most robust and cost-effective of the plans, costing $40 to $100. All of the DAT plans include as many freight trucking searches as you want—along with mileage routing, broker credit scores, and Canadian freight load rates. As you scale up in plan levels, you get more value-added extras useful for finding the best freight load rates. Benefits of DAT Solutions include no contracts and simple billing solutions. Like freight factoring, DAT also provides easy monthly billing solutions.
Learn more: Simple Tips To Improve Your Negotiation Skills With Freight Brokers
Trucker Path
Another heavyweight in the search for the biggest paying truckloads to haul is Trucker Path. In the trucking industry, Trucker Path is famous for having the most popular truck driver app. You can access loads along with GPS tracking for freight, digitized document services, and an active community of more than 600,000 US truck drivers and 100,000 freight carriers.
Trucker Path has two options for services involving truckload load boards. You can opt between services for brokers or carriers. As a carrier searching for truckloads to transport, this platform gives you access to more than 150,000 loads for free.
Direct Freight
Direct Freight was established in 1997, nearly two decades after DAT. It offers you a 15-day free trial for new subscribers. If you are a shipper or broker, you can take advantage of Direct Freight as one of the best load boards for dispatchers.
Offering access to more than 300,000 loads a day, the Direct Freight service comes with an easy-to-read Available Loads Map. The live listing of loads is currently available in real-time for carriers, owner-operators, shippers, and brokers. When choosing a load, it is as simple as clicking on a state and scrolling through lists of loads along with load size, weight, payout, and estimated rate per mile. Dispatchers have access to all of the details right in a single spreadsheet. This makes selecting a load for a route or driver easier and faster.



Best Practices for Using Load Boards
To get the most benefit from a truckload load board, start with understanding the platform. Whether you choose Trucker Path, Direct Freight, DAT, or some other load board service provider, you have to know what they have available in order to use it. Spend some time getting to know the platform. Read over the information about how to source loads, steps to take when selecting a load, and protection you have from the platform for securing your information.
Do the same for your trucking business. Determine what it is you want to find on the load boards before you get started. Start with haul types, which include refrigerated/reefer, flatbed, dry van, box truck, hazardous, and oversized loads. Here is where you also need to know a general route and timeline, as well as budget and restrictions, that you can and are willing to meet.



Load Boards and Freight Factoring
Load boards and freight factoring have several benefits in common. The benefits for a trucking business include automating the processes of searching for freight and getting paid for loads right away. When you have so many loads to choose from, you need to have a funding option that allows you to pick better truckloads without risking your cash flow. Apply now to a Summar Freight Factoring program! Get the payment of your loads easily, safely, and in record time. Contact us today!