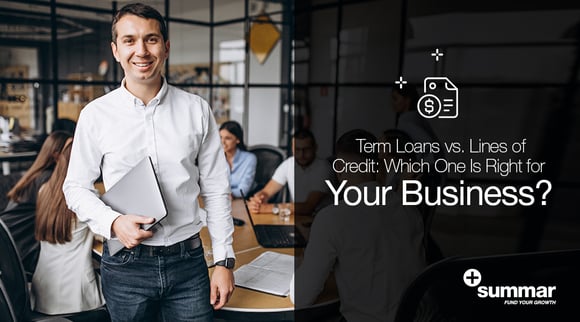 When your business needs funding to grow, bridge cash flow gaps or take advantage of a can't-miss opportunity, where do you start? For business owners, there are more options than ever for financing. Whether through the traditional route of your local bank or many of the new, burgeoning online lenders, you'll notice there is more available now than there was 10 years ago.
But more choice can get overwhelming. How can you be certain you make the right decision for your business?
While there are many ways to think through your potential options, start by figuring out which type of loan - term loan or line of credit - makes the most sense for your business. Then, narrow down lenders based on who offers the product that best fits your situation. You can use this guide to help decide which one is best for you.
Terms loans vs. lines of credit
First things first. What is the difference between a term loan and a line of credit?
For starters, a term loan is the type of loan you're most familiar with. It's a lump sum of money lent to you that is paid back over a set period of time with monthly, bi-monthly, weekly, or daily payments.
Lines of credit are revolving -- think of your favorite credit card. With a line of credit, you're granted a certain amount of credit which you're able to draw on as needed, only paying interest on what you use.
So, for example, if you pull $5,000 from your $10,000 credit line, you'll only have to pay interest on the $5,000 you withdrew. As soon as you pay back that $5,000, you'll have access to the full $10,000 again. Or, once you pull out that $5,000, even before you pay it back, you'll have access to the other $5,000 if you need it.
Online lending's impact on these products
Above are the simplest definitions of these loan types. But, the online lending industry has actually made these categories a bit more complicated than they once were.
For example, there are really many different types of term loans. You can get long-term loans through the bank or the SBA, which are low-cost loans with multi-year terms and monthly payments.
You can also get medium-term loans through online lenders, such as Funding Circle and Lending Club. These are more expensive than bank loans but less expensive than other online options.
And, finally, a very popular online option is the short-term loan. These term loans have very short terms -- usually 3 to 18 months. They're paid back with daily or weekly payments and can get quite expensive. While their credit requirements are less stringent, they can be impactful to overall cash flow due to their short repayment terms, frequent payment schedule, and overall higher cost.
Lines of credit are a bit less complicated, but you should note that a line of credit from a bank is going to be less expensive than a line of credit through online lenders like Kabbage and BlueVine. However, lines of credit through online lenders are easier to qualify for and have very fast applications, so when making the choice on where to start your search, it should come down to what your business can afford and how quickly you need the funds.
Which is best for your business?
When evaluating which of these products is best for your business, it really comes down to what's most important to you.
If you need cash quickly, your best bet is going to be a line of credit through an online lender or a short-term loan. Both of these products have very quick applications and, in many cases, allow you to receive funds in a matter of days.
But, if you want the lowest-cost capital, you should start your search with the SBA or your local bank. These will always be the sources of the lowest-cost capital. However, SBA loans and bank loans can be tough to qualify for, so you want to make sure your credit and financials are in shape before you pursue either of these options.
If you're still not sure where to start, how you plan to use the funds is ultimately the best way to decide. If you're simply looking to have some capital on hand in case of an emergency, then you should consider a line of credit. This makes sure you don't end up paying interest if you don't use the money.
If you have a specific investment in mind, a term loan is usually best. You're able to easily calculate the cost of the investment before taking out the loan and decide whether or not doing so will provide your business with a positive ROI.
Ultimately, financing your business can be expensive. If you're stuck deciding between these two options, opt for whatever is the lowest cost. Make sure you're looking at the math correctly, too, as sometimes figuring the potential cost of a line of credit can be tough. Also, watch out for things like "factor rates" on a loan offer. Always ask for the lender to provide their cost in APR. If you're unsure how to compare two offers apples-to-apples, seek out a loan specialist.
Don't let financing become an impediment to running your business. Please contact us at Summar Financial, and explore our factoring and other funding solutions to help your business grow.