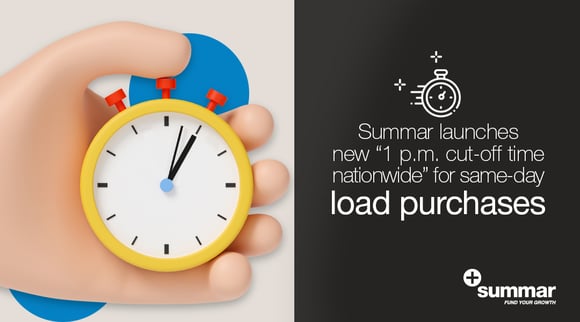 Miami, July 19th, 2022 - Creating solutions that allow company owners to be at the forefront of their business and ahead of the competition is Summar's priority. Today, Summar introduced a game-changing feature that will benefit its clients greatly, the latest cut-off time for same-day funding in the industry.

Summar extends its cut-off time for same-day funding from noon EST to 1 p.m., irrespective of your time zone for all its clients.
If you are in PST, MST, CST, or EST, your cut-off time for same-day funding is now extended to 1 pm EST. That means clients now have until 1 pm in their time zone to send paperwork and get same-day payments.

"Now, if you upload your paperwork through our proprietary app before 1 p.m. and your load has no paperwork issues, we'll process your payment the same day, even as fast as two hours," explains Alvaro Otoya, President of Summar. "We listen to our clients' needs constantly and have learned that giving them those extra hours will help them with their cash flow and daily life overall. Right now, cash flow is more critical than ever for the freight industry - we see price adjustment on loads while gas prices continue to be at record high levels."
This new feature gives our clients more flexibility in their daily purchase requests. Also, it strengthens Summar's efforts to expand nationwide by better serving truckers and owner-operators in mountain and west coast time zones.

About Summar
Summar Financial is a no-hassle funding company. Summar believes in simplifying the funding process for its clients so they can reach their full growth potential. They accomplish this by making sense of the challenges their clients face. Summar is a leader in factoring and supply chain finance for fast-growing scale-ups and freight companies. They have worked with over 5,000 companies, funding over $3 billion in working capital with personalized service and excellent customer satisfaction.
Contact information:
Martha Hernandez
Marketing Director
Summar Financial
mhernandez@summar.com