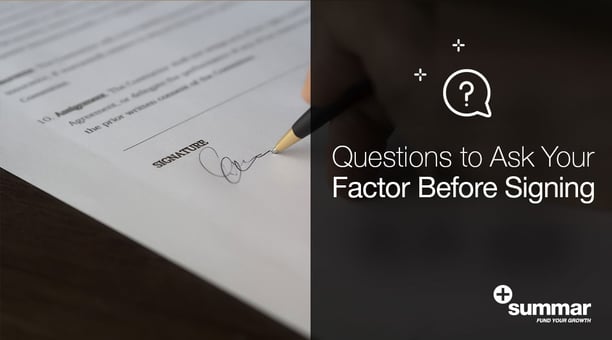 While invoice factoring has many advantages, working with factoring companies can be tricky at times. Between the long-term and difficult to get out of contracts, confusing terms and hidden fees, some factoring companies leave too much information open to suggestion to make this an easy and enjoyable experience. Read on if you want to learn how to work with factoring companies and what to look for so that you get a fair deal.
Before you make a commitment to an invoice factoring company to work with, make sure you understand how invoice financing works, and how to best decide, which factoring company will serve you best. Here are some questions to have in mind:
What is the factoring rate going to be if a broker takes 30 or 45 days (or more) to pay?
It's important to know that the majority of brokers and shippers do pay within a 30-to-45-day time period. This is where it's important to vet your factor, and consider your options. If you're a new entrant carrier, a flat rate agreement is the best way to go – you're brand new to the game and you don't have established clients with known track records. A flat rate is also a good (and safer) idea if you're always hauling for different carriers; it simplifies the process and creates stability.
Proposals with escalating – or "step-up" – rates are impacted by the length of time it takes the broker or shipper to pay. This is usually a better bet for an established carrier that has proven, established working relationships with brokers and knows how long in average brokers will take to pay for his loads to allow him to calculate the real cost of the program.
In a typical transaction, what fees will I be charged in addition to the factoring percentage?
Same-day processing charges: that is, if you want your money the same day, the factor will usually charge a "same day" processing fee.
Large funding transfer fees: This fee is typically agreed-upon per the contract and it's a percentage of the total funding amount. For example, 1% for a $30,000 transaction which will be an additional $300.
Also – watch out for per-invoice administrative fees.
If I don't like the services, can I cancel early? And if so, is there a penalty?
Signing an agreement that isn't the right fit for your company can be a costly mistake. Early termination charges can be as high as $15,000 – even for small carriers or owner-operators. That's why it's so important to do your homework, read all the fine print, and know exactly what you're getting yourself into.
What other services does the factoring company offer?
While every company has different needs, the essentials don't change. They're the common threads that connect a business. However big or small you are, you'll want to consider whether a factor has:
Billing and collections support
Fuel cards
Fuel advances
Compliance help
Insurance
Load boards
Hours of operations, and same day funding cut-off time
Equipment Financing
Will I be assigned an account representative?
Consistency is key. Look for a factor that is going to give you one point of contact that will get to know your business and how you work. What you don't want is to be constantly shuffled around to different people who have to familiarize yourself with you every time you have a question or concern.
Transparency is important. Helping clients select the right terms, ensure they understand their contract, and be certain that they understand the fastest way to get funding is critical. At Summar, we believe that funding your company's growth should be fast, safe, and simple. Through transparent pricing, no chargebacks, and incredible personalized service, our tailor-made factoring programs will be the perfect partners for the growth of your company. Discover more and apply now!