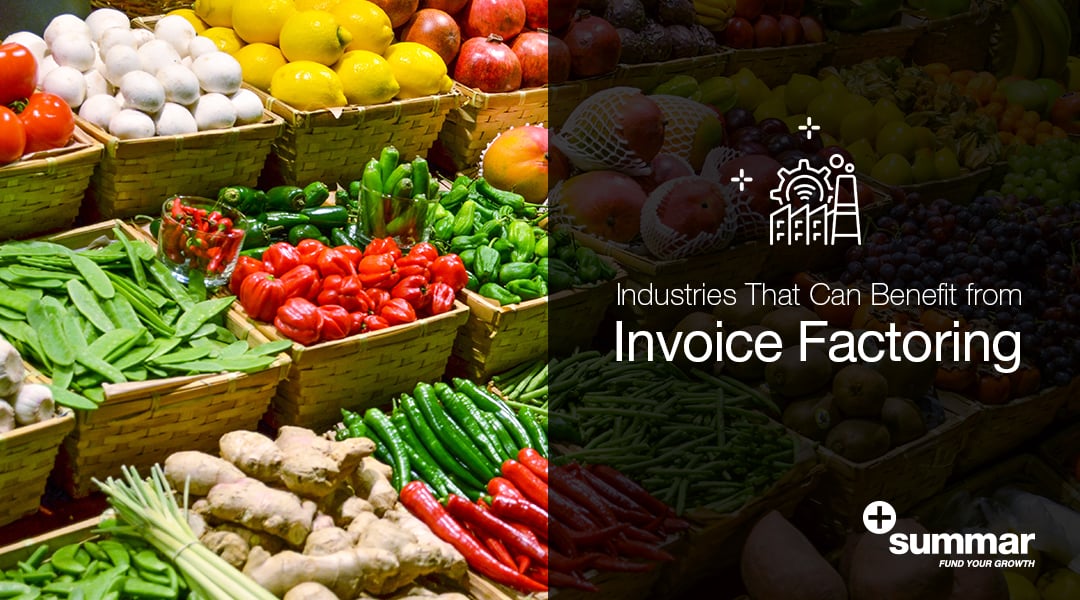 From agricultural and food production to staffing and frozen foods. At Summar, we offer factoring programs to assist growing companies seeking to expand their businesses. Factoring is a financial management technique by which a financial company, or factor, manages the receivables of a company by buying its invoices – covering its cash flow needs. Several industries can benefit from factoring programs. From agricultural and food production to staffing and frozen foods.
Before entering into a factoring agreement, research the factor's history and background providing financial services in your industry. As your company grows, the funding of your customer invoices should grow with you. In this article, we bring you the industries that can benefit the most from our factoring programs.
Seafood
The seafood industry bears a unique pressure in the businesses that need to get their product to market quickly or risk having no product at all. But even though the fisherman gets his product to the market with a fast turnaround, he must still wait for the payment – as most clients pay anywhere from 30 to 60 days.
If the client doesn't pay on time, a seafood company could be facing an even longer wait. In the meantime, the company must pay bills and payroll. Plus make sure the business runs and all the necessary equipment is operational. This gap in payment is where invoice factoring comes in. Taking up to 60 days to repay allows the retailer to maximize its profit of the product and utilize the money. It's an accepted way of doing business for the seafood industry and why invoice factoring is so important.
Invoice factoring turns an outstanding invoice into usable funds sooner rather than later. Money shows up within a matter of days instead of months. Building a relationship with a factoring agent results in steady cash flow as invoices are submitted and settled. There's no more waiting in the dock for money to resupply and pay off employees.
Factoring eliminates the need to spend time looking for money. Cash in hand means that valuable time is spent working on the business and bringing in more seafood and suppliers to send to the market. Instead of sitting in the office and keeping everything docked.
Our Market experience in the seafood industry
For 15 years, we've delivered for seafood companies. Independent fishing companies, importers and exporters, processing factories, fish farms, wholesalers, retailers, distributors, and seafood specialty companies of every sort have all managed their accounts receivable through Summar Financial—with outstanding results.
Frozen Food and Agriculture
Another industry that can benefit from invoice factoring is agricultural production. activities are in general quite eligible for factoring. The food chain represents more than 80,000 companies – consisting of small businesses, wholesalers, and retailers with an annual turnover of billions.
We understand the business of perishable goods and the need for cash at the right time to save your company from further losses. Our factoring programs are designed to meet the strict requirements of PACA laws that govern the agricultural industries in the USA. Shipments are easily quantifiable, on the domestic market or for export, and invoices are easily fundable.
Our experienced team works successfully with many companies by analyzing their customers' credit, their cash flow needs and working closely to ensure steady growth.
Fruits and Vegetables
For sales of fresh fruit and vegetables, the factor will look at the quality of the distribution channel. The factor bears the risk of default payment by your customers.
The longer the distance between the origin and destination of the goods, the more the factor considers the risk that the quality of fresh fruits and vegetables is altered. Thus, factoring may finance a sale transaction of a domestic producer on the domestic clients but will be reluctant for a sales for export.
Staffing
The biggest challenge staffing agencies face is meeting weekly payroll when it takes 15 days, 30 days, or even 60 days for customer payments. Factoring for staffing agencies gives companies access to the working capital they need to meet payroll obligations and grow.
Due to the wide variety of positions recruited for and industries served, an agency's invoices can be paid at unpredictable times. Factoring helps staffing agencies overcome their cash flow management issues.
This type of factoring is commonly used by:
General staffing agencies
Information (IT) staffing agencies
Temporary agencies
Health care staffing firms
Human resources (HR) consulting firms
Headhunters
Summar Financial works as an additional level of support for your staffing agency. With solutions tailored to your company's specific needs, you never have to worry about being locked into a single deal. Our invoice factoring solution may suit your business even better than a bank loan and can benefit your company in any industry.
Our team is dedicated to helping your company improve cash flow by providing advances of cash against the value of outstanding receivables and purchase orders. This means that your business will have access to an ongoing supply of capital linked to new sales. So as the business grows, so does the amount of funding available to you, cash that can put your growth plans into action.