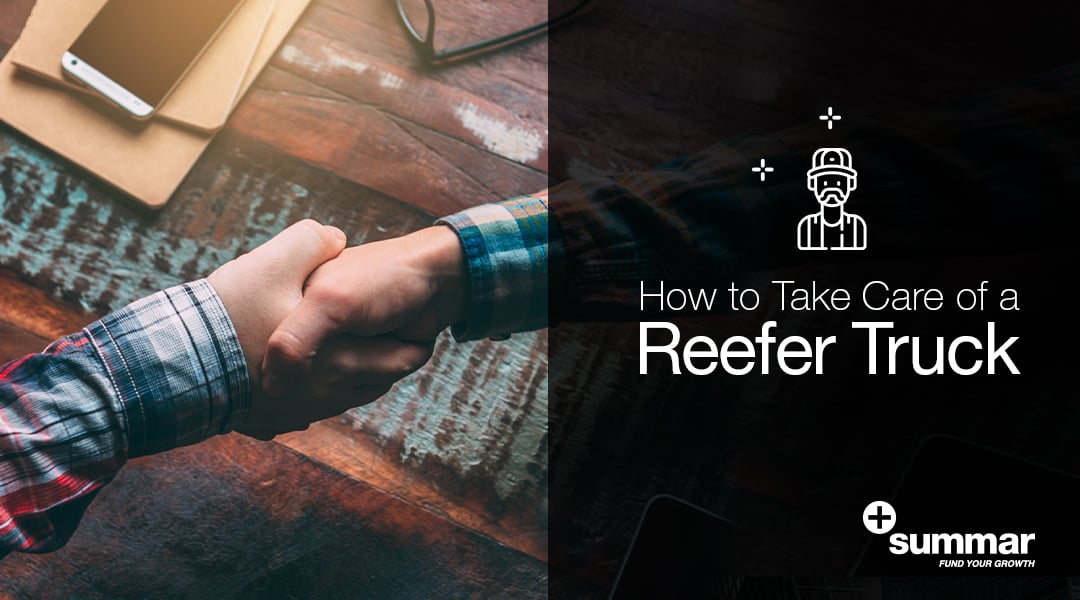 If you drive reefer trucks, your top priority is the maintenance of the refrigerated box. For example, if you must deliver a load that you must keep at 41° F and arrive at the delivery point at 46° F, the manager could refuse the order.
The result? A wasted product, dissatisfied customers, additional visits; all this would increase your operating costs.
If a breakdown happens on a highway, can generate disastrous results, from minor consequences such as delays in deliveries to larger problems such as a delay due to a broken cold chain.
Whether you are driving a reefer truck or some other truck model with a refrigeration unit installed, it is necessary to do regular maintenance to ensure all goods in perfect condition and without damage, as well as to improve the lifespan of your vehicle.
Due to corrosion and other factors, refrigerated vans usually have a short lifespan. But it should not always be that way. In the following article, we want to share some maintenance tips for you to learn how to take care of a reefer truck.
Adequate temperature
The first step in caring for the refrigerated box of your truck is to make sure you are using the ideal temperature to transport food safely. By maintaining the correct temperature, as a driver, you will avoid the disorder or contamination of food through bacteria or mold. This could damage the load, in addition to endangering the general sanitation of the trailer.
Routine Reviews
Along with pre-trip and post-trip checks, you should routinely inspect the refrigerator box. You must manually measure and calibrate the refrigeration unit, as well as ensure that the compressor is working properly.
As a driver, you must understand how the condenser and evaporator work so you can identify mechanical problems if you are alone on the road. Also, during inspections, you should look for signs of engine and compressor oil leaks.
The refrigeration units have belts and hoses that must be replaced in a maintenance program after approximately 1,500 hours of operation or according to the engine life cycle. This is key to protecting the unit against breakdowns.
Also, regulating the temperature of a refrigerated truck requires a seal that operates fully. Affected door seals may allow the temperature to "escape" and damage the product, which could result in improperly refrigerated food and be dangerous for consumption. As these can often be damaged over time simply due to wear, it is a good idea to check them periodically.
Routine changes
Another maintenance task includes keeping the engine oil clean and checking coolant levels.
Remember that the oil must change every 3,000 miles for optimum performance. A reefer truck is especially sensitive to water, dirt, and dust because it could affect its ability to maintain a constant temperature.
Check that the contaminants have not been filtered to the refrigeration unit and consider that all maintenance must be controlled by a trained professional.
Fuel tank
A cooling unit runs on diesel fuel, so you should anticipate that you will have a higher consumption of this fluid.
When starting any trip, check that the tank is completely full. Also, never reach your destination with little fuel and make stops to recharge it. Losing power or energy due to a low fuel level could damage the load.
Washing and cleaning of trucks
Whenever you complete a delivery that involves food, especially meat or livestock, you must completely clean the refrigerator, as you can leave traces of blood, stickiness or other waste and contaminate the next load.
A truck cleaning or washing can vary from simply sweeping the trailer floor to a large-scale washing with special chemicals. While corrosion and oxidation are inevitable processes, regular cleaning and care of the box will increase the life of your refrigerated truck.
Food Security Training
To transport food safely, it is important that you complete safety training. This training covers sanitary transport practices, such as how to handle bulk transport or minimize microbial food hazards. Food safety training helps ensure that all drivers can operate the refrigerator boxes properly.
At Summar, we work for our clients and one of our purposes is that you can meet the requirements and needs of every delivery. If you want to fund your growth with us or more information about our services, do not hesitate to contact us, our specialized freight factoring team will assess you in each of the aspects you need.