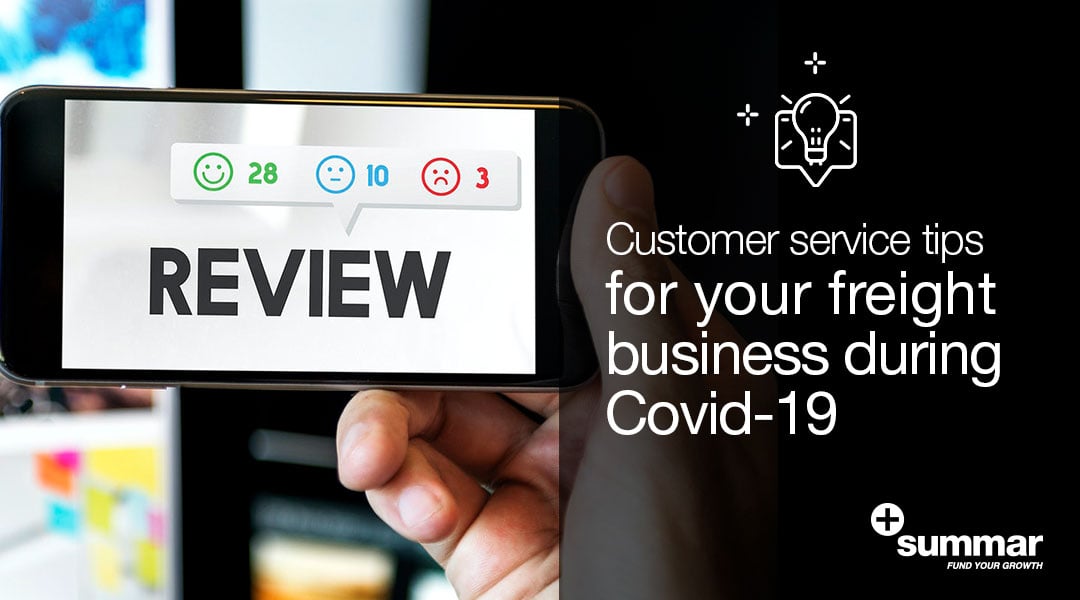 After America slowly goes back to normal after the Covid-19 peak, freight companies have to adapt to a business-as-usual with a lot more restrictions to keep safety measures to a standard. Having to handle several things at a time may take a toll on customer service, which is essential for truckers during these times. Here are five ways companies can make sure to offer excellent customer service:
1. Update your Covid-19 status
Clients value honesty and transparency, above all. Keeping updated information and a clear channel of communication is essential to make them feel valued and not left alone. One great way to show them the business is still running, it to create a banner on the website with Covid-19 related news or use Google My Business to update your status. That way, customers will know how the business is running, what has changed, and what they might expect.
UPS set up a banner on their website with operation alerts and what to expect. This way, you'll show your customers what you are doing to stay active during the pandemic.
(Photo credit: UPS) (Photo: Google My Business – Summar Financial) You can also use Google My Business Covid-19 update to report an update on your current situation, allowing customers who search for you to know if the business is running as usual or if there are any relevant updates.
2. Sell to old customers; new ones will come
Even though some sectors may be getting new clients and a higher traffic volume, it is imperative to focus on offering great service to old customers as well. Your strategy might be to attract new customers but make sure to put in some effort into the old ones too. It costs five times as much to acquire a new customer as it does to retain an existing one. Make sure to offer current customers excellent service and peace of mind with their businesses as well as keeping a proactive communication.
3. Check-in with your suppliers
Many businesses have had to close or re-adjust their strategies. There might be interruptions in the supplies you need to do your job. Knowing this ahead of time can help you prepare and set realistic expectations for your customers. If it is going to take you longer to fulfill orders than usual, your customers will be more understanding if you let them know in advance. This will also show them you care about their personal needs and how you can help them. At Summar Financial, we are still working as usual, making sure to deliver the best service possible. We are one supplier you don't need to worry about.
4. Update information on possible lock down locations
Many states have had to adopt a strict supply chain restriction. Even though this is outside of the control of freight providers, many freight companies can stand out by providing useful advice and information, specially now with so many back-and -forths.
A freight business could post information on its website on possible location restrictions or urge its clients to verify if the destination has any additional recommendations, helping shippers and brokers know what truckers might find in advance. A list of closed ports, highway restrictions will go a long way and will make their job easier and have realistic expectations.
5. Invest in digital strategies
Since lock down started, the use of digital platforms has been increasing exponentially. If you do not have accounts on social media platforms, it might be a good time to open them. This will help your current and potential customers find you through various channels as well as see updated information on the company's development. The use of free social media platforms will allow you to see relevant and trending news and act accordingly. LinkedIn might also be a great way to see information updated and see what actions are being taken.
Every small action can go a long way and deliver outstanding results. It is essential to always have your eye on customer service; this alone will generate great word of mouth and assure you keep existing customers. The financial situation is challenging for every business right now; yours included. Summar Financial is the only factoring company to offer you true non-recourse programs with credit guarantee in all your loads, meaning we will never do a charge back if your debtor fails to pay. So if this is something that might apply to you, give us a call or leave your information!