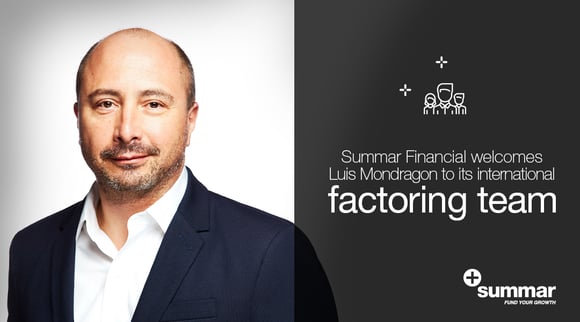 Luis Mondragon joins Summar as the new Vice President of Sales for the International Factoring division.
His experience of more than 25 years in sales, marketing, and team management will be vital to expanding the scope of Summar's services and geographical coverage.
In its ongoing effort to help Latin American exporters finance their growth, Summar Financial is pleased to announce the hiring of Luis Mondragon as its new Vice President of International Factoring Sales.
For more than twenty-five years, Luis has successfully managed sales teams in financial companies; He is also an expert in international management in sectors such as services, packaging, and fast-moving consumer goods.
This move reflects the company's interest in the region, reaffirms Summar's commitment to its clients in Mexico, Central, and South America, and seeks to strengthen its team further to expand its services and solutions.
Alvaro Otoya, President of Summar, comments: "The logistical challenges with Asia accentuate the great opportunity in foreign trade with North America. Summar wants to provide its expertise in international trade financing through, first, a strong team with the right talent, and second, our international non-recourse factoring programs. They allow our clients to make credit decisions with confidence and peace of mind." And he adds: "Summar continues to consolidate itself as a leading international factoring company, with unbeatable customer service and experience."

About Summar:
Summar Financial is the no-hassle factoring company. With over 18 years of experience, it is a leader in international factoring services, concentrating its efforts on Latin American exporters. Summar has supported more than 5,000 companies in industries such as Food (Frozen, Fresh and Dry), Beverages, textiles, machinery, and staffing, among others, with the best service in the industry.